Officials intervene after stink over Llanddulas tip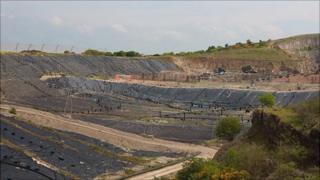 Environment officials have intervened to tackle bad odours at a landfill site.
Villagers living near the tip at Llanddulas in Conwy had complained that methane gases from rubbish and rotting food were blighting their lives.
After issuing a formal warning to operators, the Waste Recycling Group, Environment Agency Wales officials ordered measures to quash the fumes.
The agency praised the operators and said the situation was much improved.
The problems first arose in December 2009 when local people complained to the agency about the smell.
Conwy councillor Deion Smith, who lives next door to the site, said: "It was very bad, more so for the residents of Llanddulas, even in the cold weather of the winter, but at times Llysfaen was also suffering.
"I'm sure you can imagine with your bin at home the kinds of smells that come off the waste and that was concentrated many times, much to the annoyance of residents.
"I have to applaud the local management of the company for the work that has taken place on the site and there have been no stops in the work and improvements that have taken place."
There are plans to shut the site in about five years when the tip reaches capacity, a prospect Mr Smith said was pleasing for residents.
Under instruction from the Environment Agency, the operator has drilled bore holes into the waste mass to create gas extraction wells so the methane can be burnt off.
A further audit in July showed extra improvements that could be made to address the problem.
Permanent cap
Euryn Roberts of the agency said: "The drilling is one half of the work that needed to be done - the other is to put a temporary cap over the waste to contain the odour within the waste.
"That cap will be replaced by a permanent cap before too long."
The design of the cap will first be checked by its officers to ensure it is fit for purpose.
He said the measures already taken had caused the number of complaints from locals to drastically reduce.
He also applauded the Waste Recycling Group for working well with the agency to tackle the problem.
From this week people in the Llanddulas area will receive a newsletter updating them on progress made at the site.
The agency said it was confident that things were improving but it would continue to monitor any issues at the tip.
Local people are urged to report issues with the site to EAW immediately on 0800 807060.