High hopes in Carmarthenshire for autumn high tide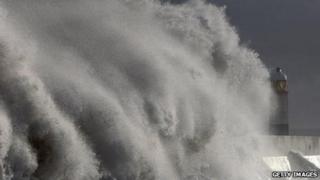 Visitors are expected to flock to the Carmarthenshire coastline later to witness massive autumn high tides.
Forecasts suggests that tide will reach nearly 9m (30ft) at Llanelli promenade, and along the coast at Burry Port, Cefn Sidan, Ferryside and Pendine.
The Environment Agency says it is monitoring conditions along the whole Welsh coast during Thursday.
However, it says expected weather conditions mean that the tides are unlikely to cause any flooding risk.
Llanelli's Millennium Coastal Park manager Rory Dickinson said: "Spring and autumn equinox tides are always spectacular visually but this week's early evening tide soon after 7pm (1900 BST) will allow a lot more people than usual to see it.
"A lot of photography enthusiasts will be hoping for a good sunset to make the most of picture opportunities."
Mr Dickinson said the tides, while often awe inspiring, had passed without incident - with one notable exception.
"In 2005, the combination of the equinox tides with gale force winds and low pressure led to damage to the Sustrans cycleway and footpath near Burry Port Harbour with the storm surge putting up to two metres extra on the high tide," he recalled.
"The coastline all around the country was affected in varying degrees.
Sea Defences
"As a result of the damage suffered on the park's coastline vulnerable sections of the cycleway were moved inland and the affected part of the coastline reinforced."
The Environment Agency said it was monitoring sea surges along the whole Welsh coast, and any deterioration in weather conditions could lead to it issuing tidal flood warnings.
Chris Mills, Director Environment Agency Wales said: "If the weather conditions at sea stay as they are we do not think that we will need to issue flood warnings. But as we all know the weather can change very quickly.
"Our staff are out on the ground and monitoring the situation and we will inform people if there is any threat of tidal flooding to their community.
The agency said anyone with any concerns during the day can contact the Floodline number on 0845 9 88 11 88 for the latest situation in their area.
They can also register with the agency for a free flood warnings service.
If you are visiting the Carmarthenshire coastline to see the high tides then we would like to see your photos.
Send your pictures to yourpics@bbc.co.uk or text them to 61124 (UK) or 0044 7725 100 100 (International).
At no time should you endanger yourself or others, take any unnecessary risks or infringe any laws. In most cases a selection of your comments will be published, displaying your name and location unless you state otherwise in the box below. If you wish to remain anonymous, please say so in the box.