'Drink emergencies' for many young people in Wales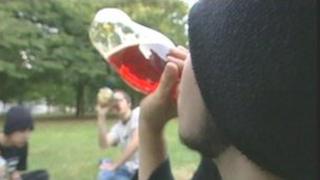 Half of 11-16-year-olds in Wales are getting drunk on average three times every six months, according to a Red Cross survey.
The charity is also worried friends of youngsters are panicking when facing alcohol problems, with one in 10 drink-related emergencies not being reported.
One in five aged 14-16 drink the equivalent of 1.5 bottles of wine or eight alcopops in a typical weekend.
The charity is campaigning to improve young people's life-saving skills.
The survey found that just under half of children in Wales aged between 11 and 16 have had to deal with someone who had passed out.
Others (15%) had to deal with an injured friend who had been drunk and in a fight.
Official figures show 366 under-16s in Wales were admitted to hospital with drink-related injuries in 2008, said British Red Cross.
The volunteer-led organisation added that many more injuries would have been dealt with by young people themselves.
ICM Research questioned 500 11-16-year-olds based in Wales.
The study found that only one in 10 young people dialled 999 and only six in 10 contacted their parents when faced with coping with an injured, sick or unconscious friend.
When asked what actions they took in response to these situations, nearly half the children said they panicked.
Slightly more than half said they did not know what to do, and four out of five said they would feel safer if they had some first aid knowledge.
The findings mark the launch of Life. Live it, a British Red Cross campaign aimed at helping young people cope in an emergency.
Joe Mulligan, first aid expert at the charity, said the aim of the campaign was to give all young people and children in Wales the opportunity to learn first aid skills and gain the confidence to save lives.
He said that the issue of young people drinking to excess had been a regular feature in the media in recent years but their vital role in saving lives had generally not been mentioned.
"We need to ensure that every young person - irrespective of whether they're drinking - has the ability and confidence to cope in a crisis," said Mr Mulligan.
"The people who most often benefit from others getting first aid education are friends and family rather than strangers and we are always looking for new and innovative ways to reach young people."
'Underlying causes'
Andrew Misell of Alcohol Concern Wales said the statistics uncovered by the survey were "unfortunately not surprising".
"From previous surveys in Europe we have seen that young people in Wales have been some of the biggest drinkers," he said.
Mr Misell said the British Red Cross initiative was "very welcome".
But he added: "We need to look at the underlying causes of this problem.
"Obviously some retailers are still willing to sell alcohol to people aged under 18, though police in all parts of Wales are doing some good work on this."
The other big issue that needed to be addressed was the low price of alcohol, said Mr Misell.
"When you can get two litres of strong cider for under £4 then it's going to be fairly accessible to those on a limited budget such as young people."