Man, 85, second victim of Legionnaires outbreak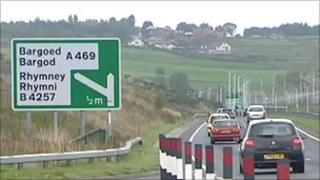 The death of an 85-year-old man has become the second to be directly linked to an outbreak of Legionnaires' disease in south Wales.
He died on 11 September, the day before Bev Morgan, 49, of Rhymney, the other confirmed victim, it has emerged.
Public health officials said there were now 22 people with Legionnaires' linked to the outbreak.
A man, 70, and woman, 64, also died of Legionnaires', but have been excluded from this outbreak.
One further case is possibly linked to the outbreak, clustered around the Heads of the Valleys corridor, and remains under investigation.
Public Health Wales said it was working with the Health and Safety Executive (HSE) and environmental health officers from eight councils to investigate the cause.
The outbreak area is the corridor 12km either side of the Heads of the Valleys Road (A465) between Abergavenny and Llandarcy.
Investigations are focussing on a cluster of seven people linked to Rhymney and a further potential cluster of people in the Cynon valley is also being looked at.
The other people have various links and connections across the outbreak area.
The (HSE) has inspected all registered cooling towers and evaporative condensers in the Merthyr Tydfil, Blaenau Gwent, Rhondda Cynon Taff and Rhymney areas - 28 in total.
Four industrial sites in Merthyr Tydfil, the Rhymney and Cynon Valleys have been closed but none have been confirmed as the source.
HSE and council environmental health officers have also visited more than 100 other workplaces.
Dr Gwen Lowe, chair of the outbreak control team, said: "Legionnaires' disease cannot be passed from person to person.
"We therefore investigate places people have been to, where they may have come into contact with a source of infection."
She said it was a "very complex" investigation and it was possible that there may be more than one source of infection.
"A team of more than 100 staff from 10 agencies have been working to find the source of the outbreak," she said.
"We will continue to do so until we are confident that we have found the source and removed it.
""We are advising people that there is no need to change their normal behaviour as a result of this outbreak.
"No one needs to avoid visiting the area concerned as the risk of contracting Legionnaires' disease remains low.
"If people are unwell and are concerned about Legionnaires' disease, they should seek medical advice."