Nine Bangor students rescued as rowing boat splits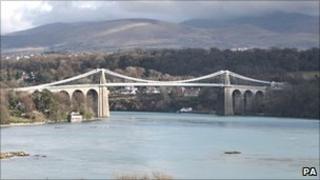 Nine students have been rescued from the water after their rowing boat split in two in a motor cruiser's wake.
The RNLI said the boat snapped in the Menai Strait between Anglesey and the north Wales mainland.
The eight women and one man from Bangor University were recovered by a safety boat, and none was injured.
When the volunteer crew from Beaumaris Lifeboat Station arrived, they retrieved half the broken boat, which was floating under Britannia Bridge.
It is thought they were getting into the half-aground rowing boat at about 1230 BST when it split.
The motor cruiser was described as about 50ft (15m) long.
As the lifeboat headed back to the boathouse, it was diverted to help another boat with one person on board which had broken down.
That boat, which was near Puffin Island, was towed to Menai Bridge.