North Wales health reviews 'not about cuts'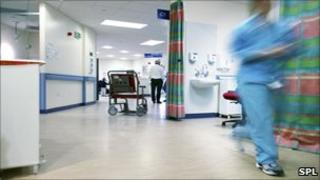 The head of the health board covering north Wales insists a series of reviews is not about making cuts.
Mary Burrows, chief executive of the Betsi Cadwaladr University Health Board, said she wanted to improve patient care under the process.
She has also dismissed speculation that a cancer ward at Ysbyty Gwynedd in Bangor is earmarked for closure.
But she said the health board must look at how it could best deliver its services within budget.
"I think we have had an unprecedented period of growth, and the Welsh Assembly Government has been really good in supporting that," said the chief executive.
"But there comes a point where you have to look at what you've got and live within your means. That's the climate that we are in."
Reviews of the health board's cancer clinical programme and maternity and child-care services are already under way.
Both have sparked concerns about the future of units such as the Alaw cancer ward in Bangor, and the effect on maternity services at hospitals such as Glan Clwyd at Bodelwyddan, Denbighshire.
But the head of the health board has insisted that the review of services is vitally important.
"I'd be surprised if you didn't ask me why I wasn't having a review," she said.
"You would expect any health organisation to undertake reviews because that's the nature of health care.
"Health care changes every day, we have advances in medical technology, new practices, new guidances."
The Betsi Cadwaladr University Health Board celebrates its first birthday on Friday, after being formed from six separate local health boards and two NHS trusts.
It covers Conwy, Denbighshire, Flintshire, Wrexham, Anglesey and Gwynedd, with its main hospital sites in Bangor, Bodelwyddan and Wrexham.
The health board said the reorganisation had presented it with new chances to see how it structured health care across the region.
"Bringing the organisation together has given us a real opportunity to look at the equity and fairness of services across the patch," said Mrs Burrows.
"So, for the first time we have brought together 25 orthopaedic surgeons who can look at: 'How do we provide future orthopaedic services, speciality by speciality'?
"So a review should be seen as a good thing."
On the specific issue of the Alaw cancer ward, the chief executive was emphatic: "We are not closing Alaw."
She added: "What we are looking at is how do we provide good inpatient care when patients really need it.
"We want to have the conversation.
"How can you actually provide this in a local community hospital and better yet, how can you provide that in a home environment?"
'Safest way'
On maternity services, she stated that the Glan Clwyd units in Denbighshire are not closing.
She said: "How do we provide the services across the population? We know that the birth ratio is changing, we know that the complexity of care is changing.
"So what we're trying to do is say: 'How do we best provide these services with the resources that we have, the safest way, that could actually mean enhancement of services'?"
Mrs Burrows also said she would not be drawn on pre-judging the outcomes of the current health service reviews.
But she added: "They should be better - that's the guarantee we are trying to give people.
"It is for the communities and clinicians to actually come up with these options."