Wales population 'has passed 3m', ONS figures suggest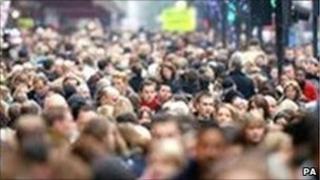 The population of Wales is likely to have passed three million, official figures suggest.
Projections said Wales would pass the landmark three million figure between mid-2009 and mid-2010, and increase by 8% to 3.3m in 2023.
A report for the assembly government by the Office for National Statistics (ONS) pointed to a steady increase in Wales' population.
The national census, held every 10 years, is next held on 27 March, 2011.
The number of pensioners is expected to rise more rapidly with a sharper rise still from 2026 as people born in the 1960s reach retirement age and Wales sees a net in-migration of people aged 40 to 60 in the next 20 years.
Wales saw 15,500 people migrate from overseas in 2007, while 7,000 people left to go overseas.
However, England accounts for the majority of cross-border migration to or from Wales. It was the source of 96% of inward migration in the year ending June 2007.
The report's introduction said: "The issue of migration is of increasing importance in the context of social and economic change in Wales.
"With an ageing population coupled with only slightly more births than deaths in recent years, migration is the main reason for continuing population growth."
The number of live births in Wales increased by 13.9% from 30,205 in 2002 to 34,414 in 2007.
Cardiff had the largest rise, almost a quarter, or 23.7%, over the five years from 3,569 births in 2002 to 4,416 births in 2007.
Wrexham, Merthyr Tydil and and Vale of Glamorgan saw their live birth rate increase by more than 20% over this time, while Monmouthshire had the lowest growth in the number of births at 2.5%.
The report said Wales had seen a "significant increase" in the proportion of births to women born outside the UK, from 5% in 1998 to 9% in 2007, although Wales remains much lower than England (24%) in 2007.
The ONS this month launched a recruitment drive to fill around 2,000 for temporary workers needed for next year's census.