Rise in families asking for debt help in Wales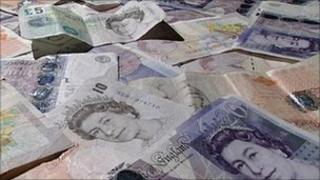 New figures show a 20% rise in the number of families in Wales asking for help to get out of debt.
BBC Wales' Week In Week Out programme focuses on victims of loan sharks as Citizens Advice Bureau (CAB) Wales reports dealing with 6,000 more debt cases compared with last year.
CAB bosses say "most worrying" is the huge rise in "priority debts" which could cost people their homes.
Rent arrears to landlords are up 88%, and 42% to housing associations.
People with arrears in their water rates have increased to 59% and cases involving private bailiffs are up 88% - although the actual figure is 421 inquiries.
CAB Wales dealt with 38,148 cases between July-October, compared with 31,643 over the same period last year
Newport CAB debt manager Sorcha Kennedy says: "People are finding it difficult to find jobs, which means they're having problems paying their rent, their mortgage, and it's just a knock-on effect.
Big rise in families facing debts
"Unfortunately, certainly with the doorstep lenders, credit is readily available, and if people are paying a small amount every week, they don't really see the impact it has and then it just accumulates into unmanageable debt."
The programme follows young mother Toni Parfitt from Newport as she tries to make benefits stretch to buy Christmas presents for her young children.
'Tip of the iceberg'
Poor health and redundancy has left her facing debt - and she frequently hides away from the people who knock on the door wanting her to pay it back.
Toni said: "We shut the curtains, shut the windows, shut the door to the living room, turn the TV right down and make a game of it with the kids - I do it quite regularly. When they've gone, we open up again and go back to normal."
Shelter Cymru is warning that for many poorer families, things will get a lot worse as the recession deepens.
Dave Sheridan, a senior debt specialist at the charity, said: "With the changes that are coming, I think we're in for a major storm.
"Things are going to get a lot worse - at the moment it's only the tip of the iceberg. It's difficult for agencies to provide face to face advice to meet demand as it stands, let alone with the cuts coming down the line."
Week In Week Out follows cases being dealt with by Wales Illegal Money Lending Unit - funded by the UK government and which works on behalf of Wales' local authorities - which has been stamping down on unlicensed money lenders.
Over the last three years it has investigated more than 100 people.
Unit manager Steven Hay says: "Most of the cases we deal with involve threats and intimidation, and very high interest rates - as a starting point - and they go up in the scale from there, through to the use of violence, extortion and blackmail."
Week In Week Out: Drowning in Debt - BBC One Wales, Tuesday, 16 November, 10.35pm