Sculptor's first show after horrific Anglesey car crash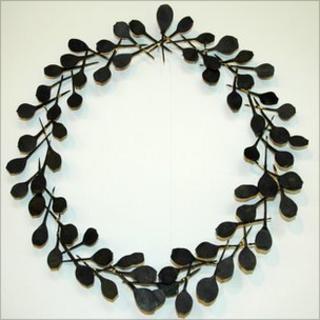 A sculptor renowned for her metal artwork is opening her first solo exhibition since a car crash left her fighting for her life.
Ann Catrin Evans broke almost every bone in her body when another motorist ploughed into her car on Anglesey in 2009.
Evans, who made metalwork for the Wales Millennium Centre in Cardiff, spent months in hospital.
Her exhibition is officially opened at Caernarfon's Galeri on Friday evening.
"After an exceptionally horrific experience I feel truly fortunate. Good fortune born of misfortune," said the artist.
"As I start to work once again I am thankful everyday that I am still here and able to create."
Evans, 42, was in an intensive care unit for three days following the car crash, before longer specialised treatment at the Royal Liverpool hospital.
The teenage driver responsible for the crash was later fined by magistrates after admitting careless driving.
But the road to recovery, and back to her art, has been long and arduous.
Famed for the heavy and sometimes massive metal installations, Evans' injuries have meant she has been forced to rethink the way she works.
The result is reflected in the new exhibition, with the dark and heavy forged metals that were her hallmark replaced with brighter, lighter pieces cut in copper and precious metals.
"I've had to change the techniques I use because of my difficulties, because of disability, and the pain," she said.
"But when I think back to how I was last January I have improved a lot, but I still can't stand for very long, because my balance and movement have been affected."
She is unable to work full-time but the experience has given her a chance to start afresh, "it's like when I first left college", she said.
"I've enjoyed it, but I was panicking the other day thinking I did not have enough work to fill the exhibition space, but then when it was all put up I was really pleased," she said.
The new lighter work gave her an opportunity to put some of her work in frames, a technique she had not used before, she said.
"Some of it is very fragile, but it's safe inside the frame," she added.
Despite the slight 'panic' Evans said she was looking forward to the exhibition.
"After an experience when you nearly die you don't worry in the same way... what's the point of getting stressed out?
"I'm just really grateful that I can turn my hand to this and I've really enjoyed it," she added.
A theme developed without her realising, she said.
"When all the work was put together I saw that it is to do with seeds, and growth and the passage of time," she added.
The exhibition at Galeri, Caernarfon, will be opened by local assembly member and Heritage Minister, Alun Ffred Jones, at 1830 GMT on Friday.
It will remain open until January next year.