Motorists in Wales warned of snow and ice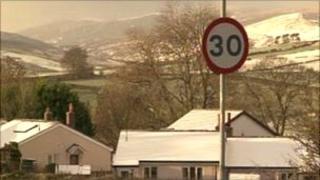 Motorists are being warned of icy roads as snow fell in parts of Pembrokeshire and Carmarthenshire early on Thursday morning.
There were also warnings of heavy snow on high ground in parts of Conwy and Gwynedd.
Drivers are being advised to take extra care and seek advice on road conditions.
On Friday, forecasters are predicting widespread snow showers with 5-10cm expected on higher ground.
The Met Office has issued a warning of widespread icy roads affecting Carmarthenshire, Ceredigion and Pembrokeshire up until 1100 GMT on Thursday.
A similar warning is in place in Conwy and Gwynedd, warning of icy roads and heavy snow.
The Met Office said snow showers were likely to produce 2-5cm on ground above 150m.
BBC Wales weather presenter Behnaz Akhgar said the snow would be more widespread in Wales on Friday.
Wintry conditions
"Tonight there is likely to be sleet and snow showers on western coasts and sometimes further inland, but the rest of the region should be dry with clear skies and a widespread frost forming.
"Ice could be a problem where we have the showers.
"Tomorrow, snow showers will become more widespread. Pretty much anywhere could be at risk of some snow with 5-10cm expected on higher ground."
The cold spell is predicted to persist into next week.
Northern and eastern parts of the UK are expected to bear the brunt of the wintry conditions.
Deputy First Minister and Minister for the Economy and Transport, Ieuan Wyn Jones, said: "The Welsh Assembly Government and councils have been preparing extensively for conditions such as these for the past 12 months.
"There is currently 130,000 tonnes of salt stored for the roads, with a further 38,000 ordered and due to be delivered shortly.
"This will be stored in barns across the country. A different approach to how salt is used will also mean that it is utilised more effectively and will last longer."
He added: "We would like to remind drivers to be aware of the conditions and take care on the roads."
BBC Wales has the latest online travel news and weather updates.