Carers in Wales missing out on £51m, claims charity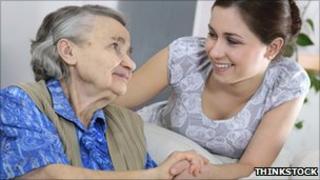 About 18,000 people are missing out on £51m in allowances, says a charity campaigning for carers in Wales.
Carers Wales estimates 126,000 people act to support family members, but many still do not realise that financial help may be available to them.
The charity said it meant some carers were left isolated and struggling to make ends meet.
It is highlighting the issue to mark Carers' Rights Day in Wales.
The charity's director, Roz Williamson, said: "Many also don't see themselves as carers, but as mothers, sons, partners and friends looking after ill or disabled loved ones.
"As a result, many miss out on support and end up caring round the clock with out a break, and struggling to pay even basic food and heating bills."
She said the value of carers to Wales was £5.9bn a year.
"Around 126,000 people become carers every year in Wales, and we hear from families who are simply not told about the support that is there for them," she added.
"It is crucial that all parts of our society work to identify carers and ensure they get the support they need."
To mark the carers' day on Friday, 700 community events are taking place across the UK, with advice and information on hand at GP surgeries, job centres, libraries and supermarkets.
Carers Wales said it wanted all members of the public to make sure that anyone they know caring for a loved one was aware of their entitlements and benefits.
The charity is also providing free guides online, or advice over the phone on 0808 808 7777.