Dolgellau nurses snow parking confusion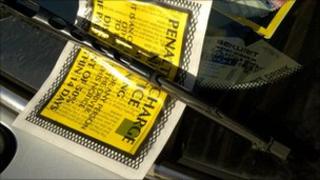 Nurses struggling through recent snow in Gwynedd feared parking fines if they left their cars in a supermarket carpark, a community council has heard.
Members of Dolgellau council say they intend raising the issue with the Co-operative store in the town.
It follows claims from at least two nurses trying to reach the town hospital during December's snow storms.
The company says the carpark is operated by a private firm but it had not been made aware of an issue.
The town's mayor, Delwyn Evans said in an earlier meeting: "I don't know what we can do as a council, but it does seem unfair.
"I know that the parking is controlled by a different company to the supermarket and they only check on their CCTV cameras on the cars that exceed the two hour parking limit.
"But surely the company that operates the cameras could have seen that there was snow everywhere and it was an emergency situation."
'Not been informed'
Fellow town councillor, Eirlys Price suggested the nurses should have put a note on their cars to explain the situation.
The town council had agreed to contact the store over the matter.
BBC Wales has spoken to two members of nursing staff at the hospital who said they moved their vehicles after being warned they could face parking fines if they left them in the Co-op store carpark.
The nurses said another colleague believes she may have fallen foul of the carpark rules.
A spokesman for the Co-Operative said: "The car parks for our Dolgellau store is owned and managed by Creative Car Parks.
"We have not been informed of any issue regarding nurses being fined for using the land to park when bad weather prevented them accessing the hospital car park."
Creative Car Parks said in a statement: "The BBC asked us to comment less than four hours before publishing their story about this parking ticket, but has been unable to provide the parking ticket number or vehicle registration or the driver's name - meaning that despite being willing to comment, we are sadly unable to investigate this incident and provide a relevant response/comment."