Flood alerts for much of Wales as heavy rain continues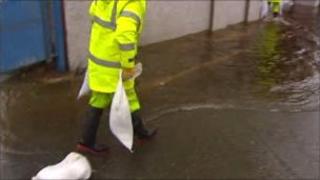 Severe weather warnings have been issued for much of Wales with up to 4in (100mm) of rain expected to fall in some areas on Wednesday.
The Met Office predicted persistent rain and strong winds, with the worst affected counties likely to be Gwynedd, Powys and Ceredigion.
Severe weather warnings have been issued for 15 counties in south, west and north Wales.
BBC Wales weather presenter Sue Charles said: "Flooding is a big possibility."
Environment Agency Wales has issued flood alerts for rivers in several areas across Wales.
An alert has also been issued for the River Wye in Powys.
The Met Office has issued a severe weather warnings with heavy rain expected in Bridgend, Neath Port Talbot, Rhondda Cynon Taf, Swansea and the Vale of Glamorgan.
Cardiff, Blaenau Gwent, Caerphilly, Carmarthenshire, Merthyr Tydfil, Newport and Torfaen are also subject to heavy rain warnings.
With the rainfall forecast to continue throughout the day and conditions expected to worsen, the Met Office said it expected to extend its warnings into Thursday.
Across the rest of Wales up to 20mm (0.7in) of rain may fall, with some localised flooding problems resulting from surface water, the Met Office added.
Over hills, 24-hour rainfall totals could reach 60 to 80mm (2 to 3in).
Heavy rain will cause rivers to rise further, with levels at Pont ar Dyfi, Machynlleth, already rising.
Jeremy Parr of Environment Agency Wales said: "As the week goes on river levels will continue to rise and we are likely to issue flood warnings for some communities in Wales. Further heavy rain is forecast at the weekend.
"Our officers are on alert monitoring river levels 24 hours a day over this next week. They will also be out checking our flood defences and clearing any blockages that could cause flooding.
"If you want to find out if you are at risk and what you can do, either go to our website or call Floodline on 0845 9 88 11 88. You can also find out the latest situation in you area.
"We cannot prevent all flooding, but what people can do is prepare themselves and their property to try and minimise the damage it causes."
The public has also been advised to take extra care on the roads.
The AA's water rescue crews are out working in south Wales due to the increased risk of flooding over the next couple of days.
AA head of special operations Darron Burness offered advice to drivers in wet conditions: "Take your time and keep your speed down, especially if you see surface water ahead.
"Not only can a car aquaplane, but any water entering the engine can wreck it - the air intake on modern cars is much lower than people realise - and it's really difficult to gauge how deep it is.
"Avoid driving through floodwater if at all possible."
Traffic Wales said flooding caused problems on the A4118 at Knelston, Swansea, with the road blocked in both directions between the B4247 (Scurlage) and Reynoldston.
It also warned motorists of reduced visibility and surface water on M4 between J49 A48/A483 (Pont Abraham Roundabout) and J30 A4232 (Cardiff Gate).