Daughter and three others deny father Old Colwyn murder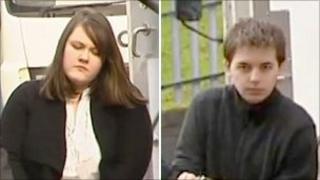 A retired antiques dealer was stabbed to death in his bed in a row involving his daughter, whose boyfriend struck the fatal blows, a court has heard.
Antoni Robinson, 61, was killed at his bungalow in Old Colwyn, Conwy, in a dispute about money, jewellery and property, Mold Crown Court was told.
The court heard he was stabbed at least 15 times as he slept in July year.
Gordon Harding, 20, Mr Robinson's daughter, Ashleigh, Sacha Roberts, both 19, and a girl of 16 all deny murder.
All four also face a charge of perverting the course of public justice. Mr Harding denies this charge but the others admit it.
Opening the case on Monday, Andrew Thomas QC, prosecuting, said Mr Robinson did not appear to have put up much of a struggle despite his wounds.
The court heard that at least some of the wounds had been inflicted by Mr Harding.
He said: "It appears that Mr Robinson had not been able to fight back or to escape. The prosecution say that Mr Robinson must have been completely overpowered by his attacker or attackers."
The court was told the four defendants were in the property at the time.
Mr Thomas said: "The dreadful fact is that the persons responsible for the killing are the deceased's own daughter Ashleigh, her boyfriend Gordon Harding, a girl of 16, and another young man Sacha Roberts.
"This killing was the tragic result of family disputes over money, jewellery and property. The dispute reached boiling point on the night of the fatal attack, when the defendants met up at the house.
"They waited until Mr Robinson was asleep, then one or more of them entered his bedroom.
"Not even the ornaments on the bedside table had been disturbed. He must have been completely overpowered."
The prosecution told the jury that at least two knives had been used, one a combat knife with a 7-in (17cm) blade and another a kitchen knife with a 3-in (7.5cm) blade.
The injuries were so severe that Mr Robinson's jugular veins were severed, and he bled to death within minutes.
Mr Thomas said all four defendants were responsible for the death, even if not all of them had wielded the knives.
The trial is expected to last at least three weeks.