CCTV uncovers Cardiff railway luggage thief's disguises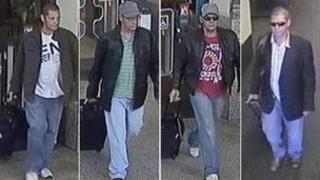 A railway luggage thief, who used a string of disguises to try to throw police off track, was finally caught by CCTV.
Darren Woolnough, 41, walked away with more than £20,000 of stolen luggage after posing as a passenger on south Wales to London services.
He was caught out after "painstaking "police study of CCTV.
Woolnough, of Cardiff, was jailed for 30 months at Cardiff Crown Court.
He wore a different hats, glasses, jackets and shirts to avoid detection at Cardiff Central station.
But the court heard he struck up to three times a day, changing clothes to mingle with commuters at busy Cardiff Central station.
Transport police studied CCTV pictures of the stolen luggage being wheeled away at Cardiff Central station by a series of suspects.
'Unfortunate victims'
But when they took a closer look at the pictures, they realised it was all the same man.
Prosecutor Tony Trigg said: "It was painstaking detective work by British Transport Police, looking though hours of CCTV footage.
"They were able to pinpoint him on the platform each time, sometimes two or three times in a single day.
"The unfortunate victims had placed their suitcases in the luggage racks at the end of the carriages.
"When the trains reached Cardiff, he would board and usually get off straight away, with someone's luggage."
Woolnough admitted stealing eight suitcases and asked for six other offences to be taken into account.
The court heard Woolnough had 178 previous offences on his record, including dishonesty and violence
Judge Neil Bidder QC described him as a "compulsive and professional thief."
"Your actions had been extremely upsetting for passengers.
After the case Sgt Dave Goddard said: "Darren Woolnough's crimes caused extreme distress and inconvenience to rail passengers who fell victim to his actions.
"One was a mother travelling with her young child whose luggage containing her child's clothing and feeding equipment was stolen.
"We carried out a thorough investigation and viewing hours of CCTV footage helped lead to Woolnough's arrest and conviction."