Inquest opens into M4 crash family deaths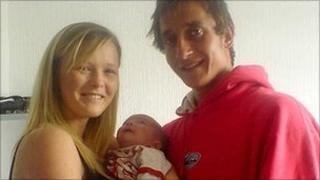 Three members of a family involved in a car crash on the M4 in Cardiff died of multiple injuries, an inquest has been told.
Parents Louise Evans, 23, and Thomas Padden, 20, and his father Stephen Padden, 56, were travelling home to Porthcawl after a holiday in Morocco.
The couple's six-month-old son Logan and his grandmother Suzanne Padden, 51, survived the single vehicle crash.
Cardiff coroner Mary Hassell adjourned the full inquest until 12 July.
At the opening of the inquest, it was established that Louise Evans and Stephen Padden, a retired telephone engineer, were pronounced dead at the scene of the accident.
The crash happened on the westbound carriageway of the M4 shortly before midnight on Monday, 17 January.
Thomas Padden, a keen surfer, was taken to the University Hospital of Wales in Cardiff but died the next day.
A post-mortem examination established that the three victims died as a result of multiple injuries.
Police have confirmed that the funerals will take place next week.