Robert Davies admits killing tourist Lavern Ritch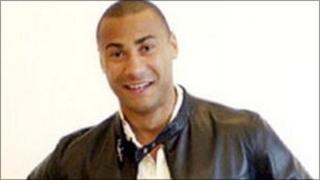 A man has admitted killing a 37-year-old Welsh fitness instructor while he was on holiday in the US in 2007, but said he acted in self-defence.
Robert Davies said he feared Lavern Ritch, from Penarth, Vale of Glamorgan, was part of a gang of illegal immigrants intent on killing him.
Mr Davies, 49, who denies murder, said he mistook Mr Ritch as one of a group who had chased and assaulted him.
The court in New Jersey heard Mr Ritch was stabbed in the chest.
Mr Davies, who is representing himself in his trial on murder and weapons charges, told the jury in his opening statement he had mistaken Mr Ritch as part of a group of Mexicans.
The prosecution said the incident in August 2007 was started by Mr Davies making a racist insult to a Mexican man in the toilet of a bar south of Atlantic City, New Jersey.
Mr Davies told the jury that the prosecution "has presented that Lavern Paul Ritch was an innocent victim, and that I killed him. That I did. It's a fact. I wish I could change that".
"But there's a difference between being an innocent bystander and someone who interjects himself into a gang-style assault."
Prosecutor William Merz said the Mexican man who was insulted by Mr Davies, Mario Chavez, saw him outside the bar and punched him in the face.
Mr Davies gave chase through the streets of Margate, a popular tourist area, past a nightspot where Mr Ritch and friends were waiting for a taxi back to their hotel in an Atlantic City casino.
Mr Merz said Mr Ritch joined the chase, intending to help Mr Davies.
He said witnesses told police they saw Mr Ritch run up to Davies and quickly draw back with both hands raised high in the air.
The court was told Mr Ritch, who had been voted one of the most eligible bachelors in the UK, said: "Look, I'm just trying to help you," only to be stabbed in the chest.
'Great guy'
Mr Davies told the jury Mr Ritch ran up to him without a sound as a group of at least half a dozen people were chasing after him.
"Lavern is a hero," Mr Davies said. "He's a great guy. Beautiful guy, the kind of guy that everybody loved. He couldn't see somebody in need and not do something.
"He sees the big white guy, blood pouring down his face, chasing after the Mexican.
"He reacted. Lavern Paul Ritch ran up without words, without warning, without saying a word. As soon as he got there, he was struck."
Mr Davies asked jurors to put themselves in his shoes, still dazed from an assault, pursuing his assailant and in turn being chased by the assailant's friends.
He said he viewed Mr Ritch, who worked as a personal fitness instructor and swimming coach at a Cardiff sports centre, as part of the group chasing him and felt threatened.
The case continues.