Police launch seatbelt campaign across Wales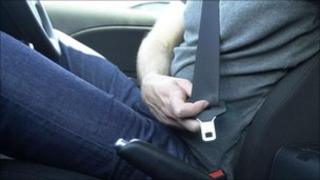 Police in Wales are stepping up their efforts to highlight the importance of wearing a seatbelt.
A campaign to highlight the dangers of not strapping in is being run during February by Wales' police forces and other emergency services.
A two-week "education and awareness" phase will be followed by a two-week crackdown on drivers and passengers.
In 2010, South Wales Police prosecuted 3,442 people for not wearing a seatbelt.
Drivers and and passengers caught not wearing a seatbelt can receive a £60 fixed penalty or be summonsed to court where they could face fines of up to £500.
Ch Supt Cliff Filer, Head of Specialist Operations in South Wales Police, said: "Quite simply, seatbelts are a life-saver.
"They only take a few seconds to click into place but can be the difference between life and death.
"Fastening your seatbelt is a simple step but it can significantly increase a person's chances of surviving a collision."
Driving without a seatbelt is one of the police call the "Fatal Five," - the five main contributory factors in fatal road crashes.
Others include drink or drug driving, driving while using a mobile phone and speeding. Similar campaigns are planned for later in year.
Gwent Police said they dealt with 427 people during last year's campaign.
Gwent Police Roads Policing Ch Insp John Pavett said: "Quite simply, seatbelts can mean the difference between life and death and yet every year in Wales people die needlessly because they are not wearing them.
"We run this campaign annually to highlight the dangers drivers and passengers face by choosing not to wear a seatbelt, and yet a minority still neglect this responsibility.
"Wearing a seatbelt is a simple and quick action that, in no uncertain terms, can significantly increase chances of survival in the event of a serious collision."
Acting regional director for the Welsh Ambulance Service, Gordon Roberts, said crews were called out to "extremely tragic" incidents "all too often" where people had not been wearing seatbelts.
He added: "These incidents can cause aftershocks for families, friends, communities and also our crews for months, maybe years."
Susan Storch, chair of Road Safety Wales, said: "We all have a responsibility to ensure we belt up to protect ourselves and those travelling with us. It's such a simple act to carry out."