Police plea over Newport murder of Nikitta Grender, 19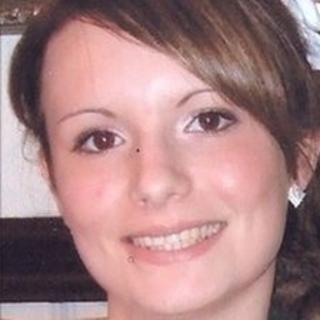 Police investigating the murder of a 19-year-old mother-to-be whose stabbed body was found after a flat fire say the answer lies in the community.
Floral tributes have been left outside the Newport flat where Nikitta Grender, who was eight months pregnant, was discovered on Saturday morning
Her body was found by fire crews in Broadmead Park, Liswerry, on Saturday.
Gwent Police have set up a major incident team and are conducting house-to-house inquiries in the area.
Ms Grender was two weeks away from giving birth to a baby girl.
The teenager's body was found in the bedroom of the first-floor flat by crews using breathing apparatus and thermal imaging cameras. Her pet dog, a pug cross, also died in the fire.
The fire alert was raised just before 0800 GMT on Saturday.
Det Supt Geoff Ronayne said the murder of a woman so close to giving birth was "particularly callous".
He said: "Somebody knows who's done this.
"It's quite possible she knew who killed her. We don't know that for sure at the moment.
"When Nikitta's family should have been looking forward to the birth of her baby they are now absolutely grief-stricken.
"We are urging members of the community to come forward and help us with this inquiry."
He added that a scenes-of-crime team were working to establish whether or not there had been a burglary or forced entry at the premises.
About 50 officers are working on the case. On Sunday afternoon, they carried out a search of the grassy area outside the property looking for a knife.
Police have established that Ms Grender had been out with friends on Friday evening and visited a McDonald's in the Spytty area of the city.
They have appealed for anyone who may have seen her from 1900 GMT on Friday to get in touch.
A Facebook page has been set up paying tribute - "R.i.p Nikitta Grenda. never forgotten always loved".
Neighbours said Ms Grender was a popular and well-known figure in the area.
Friend Luke Morgan said he could not believe what had happened.
He said: "She was fun - loving, caring. She was so looking forward to becoming a mum. You don't expect this to happen to such lovely people."
Newport councillor Allan Morris said: "It's turned a tragedy into an absolute catastrophe that's really going to upset and affect the entire neighbourhood.
"You've got a young woman here, about to become a mum, and then to lose her life in such tragic circumstances is really, really unthinkable."
Anyone who has any information can call the police inquiry team on 01443 865562 or call police on 01633 838111 or the independent charity Crimestoppers anonymously on 0800 555111.