Arriva Trains Wales strike on rugby day again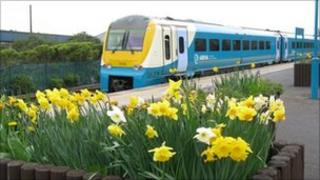 Drivers working for Arriva Trains Wales (ATW) are to stage a fresh 24-hour walk out on 12 March, the day of the Wales v Ireland rugby international in Cardiff.
Aslef said the stoppage by its members a week on Saturday followed the failed talks with company managers.
ATW has already said none of its services would run this Sunday due to an overtime ban by the union.
The dispute centres on a row over pay and changes to working conditions, in particular Sunday hours.
It has already seen drivers walk out last Monday.
Aslef General Secretary Keith Norman said he was "bitterly disappointed" with the company for failing to come up with an improved pay offer.
"Given the company's reluctance to change the position and the unacceptability of their previous offer, we have little choice but to take further action," he said.
ATW has said it has offered a "generous" pay rise worth 12% over two years.
The company has said it would bring drivers' salaries to £39,117 for a 35-hour, four-day average week.
Aslef has said its members were paid less in Wales than drivers in England and the offer was £39,000 for a 46-47 hour, five-day week.