RAF helicopters join week-long rural Wales air exercise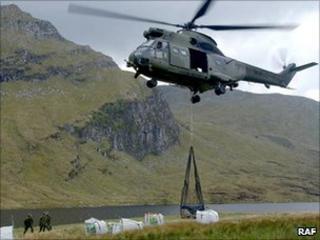 A large-scale military air exercise mostly involving helicopters takes place over rural Wales this week.
The RAF says tactical changes in Afghanistan have prompted the switch in emphasis although fast jets will also be flown.
Flying is expected to take place daily from Monday to Friday and is likely to include night flying.
"Every effort will be made to minimise disturbance," said RAF Squadron Leader Albie Fox.
"There will be occasions when participating aircraft will be required to operate at low level and this may include low-level orbits.
"Any time spent conducting low-level flying will be the minimum necessary to achieve the training objectives.
"This exercise will be particularly unusual for people living within the Wales Tactical Training Area (TTA) as rotary wing aircraft [helicopters] operating in this area is rare," he added.
"Due to tactical changes in our operations in Afghanistan the TTA will see more helicopter activity in the future."
To reduce disturbance to residents the RAF says no other units will be carrying out low-level training within Wales during this period.
The issue of low-flying military exercises over rural Wales has divided opinion.
In July 2010 Dwyfor Meirionnydd MP Elfyn Llwyd, Plaid Cymru's parliamentary leader, called for an end to the practice claiming it was damaging some of his constituents' hearing.
But Albert Owen, Labour MP for Anglesey, said the training was essential and a big contributor to the local economy.