Increased compensation for NHS tainted blood victims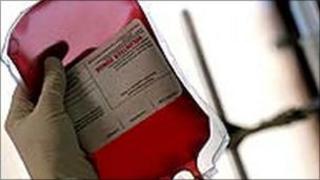 Welsh people who contracted hepatitis C from contaminated blood from the NHS will receive extra compensation.
Health Minister Edwina Hart said a one-off payment will rise to £50,000 for people with the most serious related diseases.
There will also be an annual payment of £12,800 for patients with hepatitis C from blood transfusions who develop serious liver disease.
It follows a similar decision in England and Scotland.
Almost 4,300 people across the UK, mainly haemophiliacs, were infected after being treated in the 1970s and 80s.
The Welsh Assembly Government's plans match those announced by the Department of Health for England in January, and the Scottish Government last week.
Currently, anyone with chronic hepatitis C contracted from contaminated blood receives a one-off payment of £20,000.
Another £25,000 is paid to those who go on to develop serious liver disease, such as cirrhosis or liver cancer.
The new provisions include doubling the one-off payment made to those with the most serious hepatitis C-related diseases to £50,000.
The annual payments will rise in line with the cost of living.
Mrs Hart said: "Having spoken to a number of people affected by contaminated blood, I am acutely aware of the difficulties they have faced by no fault of their own.
"Following my discussions with patient groups, I have decided that it would have been inequitable not to implement a comparable package here in Wales."
She said it was difficult to give a precise figure, but it could provide £6m of additional support to victims and their families over the next assembly term.
"This, I hope, will go some way in helping to improve the lives of those tragically infected with hepatitis and/or HIV by contaminated blood products," she said.
'Reduce the risk'
"People who need life-saving blood should have confidence in the safety of blood products under the current system, as there have been significant changes since the late 1970s and 80s to make the system safer.
"This will reduce the risk of such a tragedy occurring again."
Liberal Democrat health spokeswoman Veronica German said: "I am thrilled to see that the government has listened to our calls and is now providing compensation which is the same as England.
"I am also glad to see that the government has not included a date by which to claim compensation for those who have already died.
"However this statement is only the first step. I will be campaigning strongly to tackle other injustices that have occurred because of this incident."
However, Lynne Kelly, whose cousin Leigh Sugar died after contracting Hepatitis C from contaminated blood, and who has other cousins with the infection, said the measures did not go far enough.
'Falls far short'
"We welcome the announcement but are disappointed that stage one sufferers are excluded," said Ms Kelly, a trustee of the UK Haemophilia Society, whose sons have haemophilia.
"We feel it's a move in the right direction and it does address some people who are in extreme poverty but for many others it won't be anywhere near what they were hoping for."
She said the £12,800 figure for patients with hepatitis C was "nowhere near enough".
"It is only half of the annual minimum wage, and most of these people have had a good standard of living previously.
"Bear in mind that they received this virus through NHS blood products through no fault of their own. We feel it falls far short on every account."