Strike talks progress as Arriva Trains Wales action off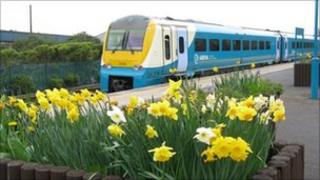 A union says "productive talks" led to the cancellation of a train drivers' walkout to coincide with this weekend's Six Nations rugby in Cardiff.
Members of Aslef had planned the 24-hour action in a row with Arriva Trains Wales over pay and changes to working conditions, in particular Sunday hours.
It would have affected fans going to the Wales-Ireland game at the Millennium Stadium on Saturday.
The union and the train company are to hold further discussions next week.
Aslef said the talks between its general secretary Keith Norman and Arriva officials led to the strike being suspended.
An Arriva Trains Wales (ATW) spokesperson said there was "good progress" with Aslef and it plans a full service, with additional services around the match time on Saturday.
A queuing system will be in place at Cardiff Central station after the match and Queen Street station will be closed as usual after 1830 GMT.
Last month Aslef staged a 24-hour strike by drivers, meaning none of ATW's 950 services ran on 28 February.
Sunday services have also been affected by an overtime ban.