Royal wedding: Cardiff leads way for street parties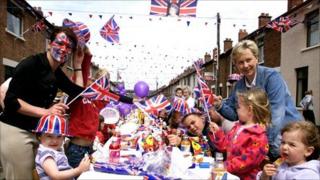 Cardiff is leading the way as more then 100 streets across Wales plan parties to mark the royal wedding on 29 April.
Thirty applications have been made in Cardiff so far, more than any other area outside London.
The deadline for applying has already passed in some local authorities, but a few are still open for inquiries.
Anglesey, where Prince William and Kate Middleton live, has no organised street parties planned so far, but village events are expected.
Anglesey council is also backing a royal celebration event to be held at the Mona Showground.
The Welsh capital was an early frontrunner among cities preparing to mark the royal wedding with street parties, with only London receiving more applications, according to the Local Government Association.
Cardiff is still expected to hold the largest number of parties in Wales, with Rhondda Cynon Taf lying second.
A group of Cardiff councillors initially suggested putting aside £5,000 to help people organise events, but this was rejected.
The council's deadline for road closure applications is Friday.
"Veteran" Rita Spinola, 71, attended her first street party for the Queen's coronation in 1953 and was hooked.
With her friends Dolly King and Shirley Burnet, she has since helped organise 13 street parties in Llanmaes Street, Grangetown, starting with one to mark Princess Anne's wedding in November 1973.
Ms Spinola said: "Everybody joined in. People from other streets used to want to come to our street parties because we always had a good one.
"We always had wonderful times and it got better every year.
"The children helped us with the decorations. We had a bouncy castle. We had races for the children and fancy dress and a buffet for the adults. Then a disco until 12 o'clock.
"We used to dress up for the children, anything to make them laugh."
"The youngsters today don't really know what they are missing. It's lovely to sit and watch the wedding. They seem like a happy couple."
However, Mrs Spinola has decided not to carry on her street party work for the latest royal wedding following the death of her two friends, and says demographic changes have also played a part in her decision to have a more private event at her home.
Besides Anglesey, several local authorities have received no confirmed applications for street parties, including Blaenau Gwent, Caerphilly, Denbighshire, Gwynedd and Merthyr Tydfil.
Anti-wedding event
Streets Alive, a group which promotes streets parties, claims Wales is likely to see more than 1,000 street parties for the latest celebation, although many will be last-minute informal affairs.
Director Chris Gittins said: "We think there will be a lot more street parties than has been requested by road closures.
"This is the first year when a royal street party is not in the summer, so they would have be planned in mid winter and it's hard to do that, mentally, when the community is in sleep mode.
A cultural group Balchder Cymru (Pride of Wales) has organised an Escape The Wedding Camp at a campsite near Machynlleth.
The five day anti-wedding event is to take place between 28 April and 1 May.