Michael Sheen at reopened Penrhiwceiber cinema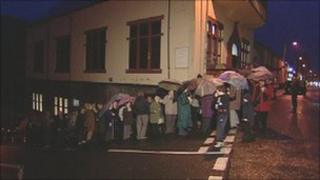 Hollywood star Michael Sheen is to visit an historic south Wales valleys cinema to support its relaunch.
The screen at Penrhiwceiber Institute near Mountain Ash, Cynon Valley, has been re-opened by locals after 25 years.
The Frost/Nixon actor, who grew up in Port Talbot, is to host a question and answer session as part of the Ceiber Film Festival on Saturday.
The cinema's first film was screened in 1912.
The campaign to bring it back to life has been headed by Ron Blacker - who worked at the hall as a 12-year-old in the 1940s - and Darren Jones from Communities First, the Welsh Assembly Government programme aimed at improve living conditions and prospects in disadvantaged areas.
To highlight the re-opening, a five-week film festival is under way.
On the opening night members of the public queued around the block for the chance for a ticket to see the 1941 film How Green Was My Valley.
There was also a televised good luck message from Hollywood courtesy of Welsh actor Matthew Rhys, whose film The Edge Of Love is being shown during the festival.
The opening night recaptured the heyday of the cinema with staff wearing 1940s costumes made by a drama group based at the hall, the Ultimate Stage Company.
The usherettes also had retro hair and make-up thanks to local hairdressers and make-up artists who donated their time.
Sheen got wind of the festival while rehearsing for The Passion at The Princess Royal Theatre in Port Talbot.
He will take part in a question and answer session with the cinema audience at 1400 GMT, before the screening of the classic Cardiff-based film Tiger Bay.
He is also offering advice to young people from the area who recently took part in a film workshop at the hall run by University of Glamorgan students and will be viewing their work in a private session.
He said: "The Penrhiwceiber Institute has a glorious and inspiring history.
"I want to do everything I can to help the hall's trustees and all the work that Communities First are doing for it to once again take its rightful place at the heart of the community.
"I urge everyone to get behind this wonderful venture and give all the support they can."
The cinema re-opening was made possible after Tri yn Un Communities First and the hall secured more than £25,000 to purchase new equipment.
Communities First co-ordinator Darren Jones said: "This is such brilliant news for the Ceiber Film Festival and Penrhiwceiber.
"For an actor of Michael Sheen's calibre to notice our festival and 'volunteer' his time and artistic skills to give a master-class to young people is out of this world."
Ron Blacker, the chairman of Penrhiwceiber Hall, said: "We are overwhelmed that a Hollywood star wants to come to Ceiber and be a part of our film festival at the hall."