Swansea fatal light plane crash inquiry begins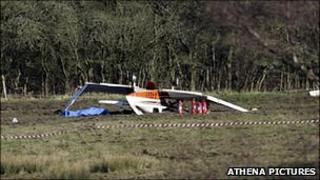 An air accident investigation team is starting its inquiry into a light aircraft crash that has left one man dead and another in hospital.
The team was called in after the two-seater plane flipped over on landing on farm land at Grovesend, near Swansea, at about 1340 GMT on Sunday.
Residents say more people could have been hurt in the incident, which was close to the M4 and a garden centre.
Power to a village was cut after the plane hit a power line as it came in.
The alarm was raised after Swansea airport picked up a mayday message from the craft and emergency services were directed to the crash scene by walkers and cyclists who had heard the aircraft in difficulty.
When they arrived they found the passenger had been able to crawl out from the wreckage, but the pilot was more severely injured and died at the scene.
The rescue was hampered because the aircraft, believed to be on its way from Cardiff to Swansea, had brought down a power line as it crashed.
Luke Treharne, one of the medical team, said access to the site was difficult initially.
He said: "Apparently the power cable that the aircraft hit was hidden in the trees," he told BBC Radio Wales.
" As farmland area, with cattle, it was covered with barbed wire and fencing, so we climbed over that and got to it.
"Luckily, the passenger had managed to crawl himself up on to a bank about 20 yards from the aircraft itself. The other gentleman was pulled from the aircraft by firefighters."
Western Power Distribution engineers were first called to the crash scene before going on to deal with power cables near a farm at Pontlliw.
The plane's passenger was taken to hospital by air ambulance but his injuries are not said to be life threatening.
The plane narrowly missed a house as it came down and it ended up on its roof.
Floodlight
It is understood that the accident investigators are examining engine failure as one possibility for the cause of the crash.
David Beynon, a councillor of Pontarddulais Town Council, said it was lucky that more people were not hurt.
He said: "The garden centre is usually very busy around that time on a Sunday, so the incident could have been a major catastrophe."
The crash scene was cordoned off overnight after air accident investigators began work with the police by floodlight on Sunday.
The crash scene is near Pontarddulais alongside the former site of Brynlliwn colliery and a reclaimed coal tip.
Neither the pilot nor his passenger have yet been named.