Pioneering BBC TV producer Selwyn Roderick dies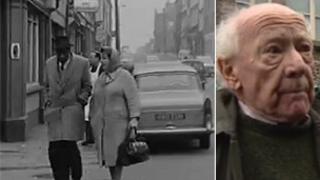 Tributes have been paid to one of the BBC's first television producers in Wales who has died, aged 82.
Selwyn Roderick, seen as a key figure in the development of Welsh TV, worked on programmes as diverse as Come Dancing and Songs of Praise.
One of his crowning achievements was Tamed and Shabby Tiger, an affectionate farewell to Cardiff's Tiger Bay as old buildings were demolished in 1968.
BBC Wales director Keith Jones said Mr Roderick was an important innovator.
Mr Roderick leaves a wife and three children.
He will also be remembered for producing the Welsh language programme Plant y Paith, a documentary about Patagonia with Owen Edwards, and Wales! Wales?, a controversial series of programmes with historian, Professor Dai Smith.
He also produced a number of programmes with the eminent Welsh maritime historian, Aled Eames.
Prof Smith described Mr Roderick as one of the most "likeable characters you could ever meet".
He said: "I first got to know Selwyn when he asked me to present the series of (Wales! Wales?) films, which were shown across the UK on BBC2 in 1985.
"Selwyn was already a distinguished film maker for the BBC, and had made several important and significant documentaries."
Asked to describe what Mr Roderick was like, Prof Smith replied: "He was feisty, intellectually driven and a passionate patriot.
"At times, he could be irascible, a pain in the neck, but he could also be charming and delightful. He was always animated and was one of the most likeable characters you could ever meet."
BBC Cymru Wales director Keith Jones said Mr Roderick played an "important role".
He added: "He laid firm foundations for the medium, as well as bridging the development of innovative television services - in both Welsh and English. I had the privilege of working with Selwyn for a time, and it was a sheer joy.
"I offer both my own and BBC Cymru Wales' sincere condolences to the family, and acknowledge and give thanks for the distinguished contributions of one of the most important innovators in our industry."