Ysgol y Parc, Bala, closure plan vote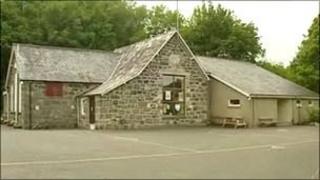 Councillors have voted to close a primary school in reorganisation plans for the Bala area of Gwynedd.
The local authority's executive board voted 10-2 to close Ysgol y Parc by September 2012 and move pupils to another in Lanuwchllyn.
The council says the closure will save around £70,000 per year and strengthen pupils' Welsh language use.
The final decision will now be made by the full council within the next few weeks.
However, the local authority's review of the Berwyn catchment area is discussed by the council board on Tuesday afternoon.
Welsh language campaigners are calling for more cooperative arrangements between the local rural schools.
The consultation paper said Ysgol y Parc was the second smallest primary school remaining in Gwynedd and the smallest in the Berwyn catchment area with 19 pupils in September 2010.
It said the school had not provided for more than 27 pupils (aged 4-10) at any point in the past 35 years and numbers have been as low as eight within the past decade.
The school forecasted that pupil numbers should remain at around 20 over the next three years, it noted, while the average class size in Ysgol y Parc is currently 10, and this is not expected to change over the next three years.
The report before the board noted that a Welsh language assesment impact found that closing the school and transferring the pupils could "strengthen the use of Welsh both within and outside the classroom for primary age pupils in Y Parc and Llanuwchllyn".
However, a community impact assessment found the closure proposal "could have a negative impact on the community of Y Parc".
The school is one of eight primary schools in Gwynedd which receive additional funding to support community facilities on the site, in this case a community hall.
The report said the council has put in writing its intention to offer to sell the community hall portion of the school building to the local community council and hand over the annual £5,527 maintennce budget.
But opposition to the closure proposals include a petition with 668 signatures.
The Welsh Language Society said the council's proposals had no support in the community and there were no educational reasons for proposing the school's closure.
'Negative policy'
Education spokesman Ffred Ffransis said: "There is no valid reason for endangering the future of the one of our strongest rural Welsh-speaking communities.
"The crux of the problem is that there wasn't any consideration of the responses to the consultation on the future of Ysgol y Parc given that the officials are still sticking to the same negative policy of closing the school.
"There were meetings where hundreds of people came to support the school.
"No-one has ever claimed that the school needs to close for educational reasons. The range of educational experiences could be extended better with our plan for a Penllyn federation."