Aberystwyth University uses oats to fight heart disease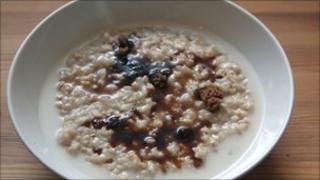 Trials of new oat varieties have started which could help reduce heart disease.
The crop, which is used to make food such as porridge, is being developed with a higher beta glucan content, which can trap cholesterol in the body.
Scientists are testing the crops under different soil and weather conditions in Aberystwyth and Scotland.
The project is being led by Aberystwyth's Institute of Biological, Environmental and Rural Sciences.
The research first came to light in April last year.
Scientists at the institute, which is part of Aberystwyth University, said oats could be grown on poorer agricultural land and in wetter climates, in areas such as west Wales.
Oats are at the centre of another university scheme looking at ways of making, for example, fuels, cosmetics and textiles from crops instead of oil.
Athole Marshall is leading the research into the health benefits of oats.
Too much cholesterol in the blood increases the risk of coronary heart disease and disease of the arteries, but the institute says beta glucan can trap cholesterol in the body before it enters the bloodstream.
"There are clear benefits to human health. Lowering cholesterol is the most obvious of these," he said.
"This will make oats more attractive as a crop in Wales and other parts of the UK where it has traditionally been grown. Our research will offer new opportunities for farmers."
The research involves developing techniques for measuring the beta glucan content of different varieties of oats. The most promising will then be crossed with other varieties.
Scientists said it was vital the new varieties also had a high yield in order to maintain farmers' profits.
It is hoped that the new winter and spring oats will be on the market within the next few years.