Social enterprise proposed to boost Welsh economy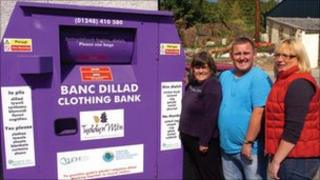 A new wave of firms with "social values" is the key to prosperity in Wales, says a report.
Professor Kevin Morgan and former Plaid MP Adam Price say social enterprises can help the recovery more effectively than shareholder-driven capitalism.
Their report - The Collective Entrepreneur - calls on the Welsh assembly to work as a "smart state" to promote social values in business.
It also cites figures such as Robert Owen as pioneers of social enterprise.
Born in Newtown, Powys, Owen was a leading figure in the 19th Century co-operative movement through his work as a mill owner in Scotland.
Business values
The report authors say the global banking crisis and global warming have shown the shortcomings of traditional shareholder-owned firms in delivering sustainable economic prosperity for all.
They suggest the economy is better served by different forms of company ownership and operation, including those currently referred to as social enterprises.
Chapter Arts Centre in Cardiff and Ten Green Bottles - which makes gifts and jewellery from recycled glass in New Radnor, Powys - are named as examples of enterprises driven by factors other than pure profit for shareholders.
Prof Morgan and Mr Price say Wales can build on a historic tradition of social enterprise in the form of co-operatives and mutual organisations, such as building societies.
"The values espoused by social enterprises have always been with us, most notably in the financial services sector," the report says.
"But once again they are resonating in the corporate economy... which suggests that the sector is now re-emerging from the shadows."
The report, sponsored by Charity Bank and Community Housing Cymru, also suggests that social enterprises can help deliver many of the public services under pressure from spending cuts, as proposed under the UK Government's Big Society agenda.
It points out while many social enterprises receive grant aid, they are less dependent on public funding than organisations in the voluntary sector.
The authors calls on the assembly government to boost social enterprise through its awarding of contracts and by persuading other organisations to follow suit.
They refer to an estimate that social businesses currently accounted for a little over 8% of its procurement spending, equal to about £350m out of a total spend of £4.3bn.
Universities are urged to develop masters degree courses in social business, and publicly funded organisations such as S4C and Cadw are named as potential candidates for social enterprise status.
In the foreword, Prof Ian Hargreaves says the authors put forward the case that Wales has been slower than other parts of the UK to promote social enterprise but now has "an exquisite moment of opportunity."
"The vision they offer is compelling: a Wales in which new forms of social enterprise acquire the scale and skills needed to drive growth and jobs in Wales, as well as delivering in entrepreneurial, imaginative and cost-effective ways a new generation of public services in health, housing, education and social care."