Geoff Claxton named as Swansea light plane crash victim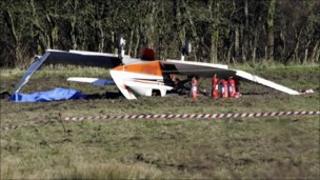 Tributes have been paid to an "experienced" and "enthusiastic" pilot who died in a light aircraft crash on Sunday.
Geoff Claxton, 73, of Talbot Green, near Cardiff, had been a member of the city's Aero flying club, and had been flying for more than 50 years.
Air accident investigators, police and transport officials are continuing to investigate the crash near Swansea.
A male passenger, 48, from Cardiff, is in a "stable" condition in hospital.
The two-seater plane flipped over on landing on farm land at Grovesend at about 1340 GMT on Sunday.
Mr Claxton's brother Malcolm said: "Geoff was an enthusiastic pilot and his joy, which had been for many years, was being up in the skies flying his beloved plane.
"He will be sorely missed by all his family and friends, and his death will leave a big void in the lives of all those who knew him."
The alarm was raised after Swansea airport picked up a mayday message from the craf.
Emergency services were directed to the scene by walkers and cyclists who had heard the plane in difficulty.
Det Insp Jeff Handley from Morriston CID called it a "tragic incident."
He added: "Together we are determined to establish what caused this crash. It is clearly important for the family to know what brought about the untimely death of Mr Claxton but there is also a safety issue for the public.
"I understand that they will want to know what can be done to prevent such a tragedy happening again."
'Loved flying'
Mr Claxton was a retired BBC Wales engineer. Tony Dumont, technology support manager for BBC Wales, said: "Geoff was a fantastic character, a valued and respected member of staff.
"He could cheer anyone up. We all knew he loved flying.
"Geoff joined BBC Wales as an engineer and worked his way up, eventually becoming a supervisor in vision maintenance.
"He nurtured many of the engineers at BBC Wales, both past and present. He had tremendous knowledge and will be sorely missed. We offer our sincere condolences to Geoff's family."
Anyone with information is asked to contact police in Swansea on 101 or Crimestoppers on 0800 555 111.