Firms must raise game, says Wales Manufacturing Forum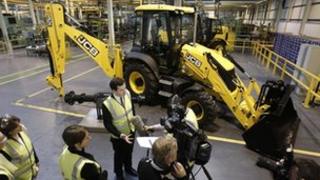 A long-awaited report into the future of manufacturing in Wales is calling on companies to raise their game and think beyond the recession.
The Wales Manufacturing Forum report calls on firms to be more ambitious and achieve "high performance status".
The Welsh Assembly Government said manufacturing is key, but it had to work in partnership with companies.
A tenth of the Welsh workforce is still in manufacturing, despite 27,000 job losses over the past two years.
Latest figures from the Office of National Statistics for September 2010 show that 135,000 people work in manufacturing in Wales. Two years previously the figure stood at 162,000 - a drop of 27,000 or 16%.
However, a number of surveys have shown a recent revival in manufacturing.
The Welsh Manufacturing Forum was formed in March 2007, in response to a range of issues affecting the manufacturing sector.
Its report, entitled Manufacturing in Wales, says there is a need to move beyond strategies based on reducing costs and instead engage in identifying extra "higher value" business opportunities.
It says leading manufacturers need to establish manufacturing as an attractive, stimulating and rewarding career for young people.
Forum spokesman Roger Evans said it had "a vision to build a sustainable Welsh economy" on a secure manufacturing base.
He said the forum intended to achieve its vision through innovative leadership, and competent, motivated people.
"The vital component will be our ability to work in close partnerships and develop our relationships to identify market opportunities through an innovative and technology-led approach on our journey to excellence," he said.
Gareth Jenkins, chair of a new panel to advise the assembly government on the manufacturing industry, said: "There is now much greater awareness of the need to have a balanced economy, and the manufacturing industry has shown it can be a key driver in this process.
"This strategy sets out how the sector and the Welsh Assembly Government can work in close partnership to achieve the objective.
"We have achieved a great deal together in the last two years but there is a long journey ahead."
Deputy First Minister Ieuan Wyn Jones will formally welcome the strategy on a visit to the Schaeffler car components plant in Bynea, Llanelli, later.
He will say that the assembly government is under no illusions about the challenges manufacturers in Wales face from those in Eastern Europe, China and India.
Welsh Conservative leader Nick Bourne welcomed the Forum's vision but added: "What must now follow is the detailed Welsh Assembly Government manufacturing strategy that has been promised to Wales for well over three years."