Gangster John Gizzi posters removed by Rhyl shop centre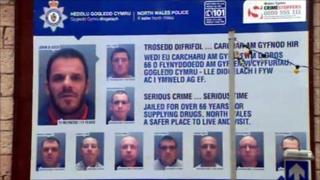 A North Wales Police poster featuring the face of a violent gangster has been taken down by shopping centre officials after just two days.
The posters warn: "Serious Crime... Serious Time" - highlighting the mugshots of John Gizzi and his gang.
But the White Rose centre in Rhyl, Denbighshire, took them down after "numerous complaints" from shoppers.
Gizzi, 39, was jailed for 11 years earlier this month after admitting trying to bring cocaine into Wales.
Police said they hoped the billboards in areas where the drugs gang operated would act as a deterrent to others considering a life of crime.
Richard Henderson, the manager at the shopping centre said the images had proved "contentious".
"The posters were up for two days. During that time we had numerous complaints from members of the public," said Mr Henderson.
"The police had said that they would have increased police presence at the centre once the posters went up but that didn't happen. I am unhappy with the police.
"I didn't understand that the posters would show a specific group of people, I thought it was a wider campaign.
"As it proved so contentious we decided to take them down."
Police said the decision to remove the posters was made by the White Rose manager, following an earlier agreement to display them.
"We want to highlight to those involved in drugs, their families and associates, that no matter how small a part they play in a drugs operation the North Wales Police will seek to bring them before the courts," said assistant chief constable Gareth Pritchard, as the poster campaign was launched.
Drug smuggling
"Increasing the supply of drugs to an area causes a rise in drug use and can lead to an increase in crime to pay for the drugs. This increase in crime disrupts the lives of many law abiding people in the community."
Gizzi, who lived at St George near Abergele when he was jailed, had been under surveillance by police after being released from a five-and-a-half year prison term in 2009.
The criminal portrayed himself as a builder, while living a millionaire's lifestyle.
He was convicted in 2006 for beating up two homeless men from Rhyl with wooden staves.
At the time he was described by the courts as a "thug" and "bully".
Nine other members of his drug smuggling operation were jailed for between four-and-a-half years and nine years when they were sentenced in Caernarfon earlier this month.
Commenting on the decision to remove the posters from the Rhyl shopping centre, a police spokesperson said the images were still being displayed at other locations.
The posters have been put up in other parts of Rhyl, Pensarn and Colwyn Bay.
The towns were where Gizzi's gang mostly lived and operated.
"Other posters are now on display at different locations with the same deterrent message," said a police spokesperson.