Cockerel row neighbour Roy Rylands denies antagonism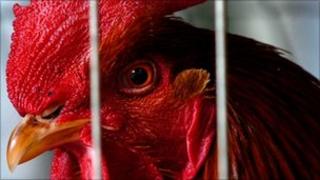 A man accused of keeping his neighbour awake with his noisy cockerels has denied having plenty of reasons to "annoy" him.
Roy Rylands and his wife Valerie, from Bwlch y Fridd, Newtown, are appealing against a noise abatement notice issued by Powys County Council.
Magistrates have heard of a history of incidents between the Rylands and their neighbour Roger Morgan, 48, who complained about the cockerels.
The case at Welshpool continues.
During cross examination of his evidence, it was put to Mr Rylands that he had plenty of reasons to annoy Mr Morgan.
"Not at all," he replied.
He added: "You don't antagonise the Morgans."
Mr Rylands admitted he did not get on with Mr Morgan but said: "I've tried."
The court had previously heard how an environmental health officer visited the Morgans' house following the complaint to monitor noise.
Mr Rylands denied "emphatically" that he did not invite the officer to his home, adding: "I was pleading with him to come."
The court heard that contemporaneous notes by the officer suggested Mr Rylands had not invited him.
Mr Rylands said he was "astounded" to receive a noise abatement order "in the post, with no visits".
The court previously heard how Mr Morgan sleeps several nights a week in a spare room because of his working hours.
'One excuse after another'
Mr Rylands said: "I don't hear any noise at all. If Mr Morgan stayed in his bed at night in the front room he would not hear any noise."
Jonathan Salmon, for Powys council, said Mr Rylands had offered "one excuse after another" when asked why he could not move the birds to another location.
Mr Rylands said if he moved the coops behind some nearby barns he would moving the animals "towards another neighbour".
He added that none of his fields near to his property were suitable for keeping chickens.
The court also heard previously from witness Janet Taylor who described Mr and Mrs Rylands as "the best neighbours I could wish to have".