Rylands lose Newtown noise cockerel appeal in court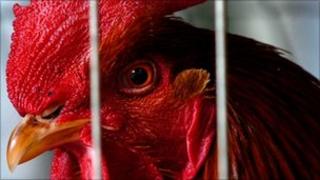 A couple accused of keeping their neighbour awake with noisy cockerels have lost their appeal against a noise abatement order.
Welshpool magistrates were satisfied a statutory nuisance did exist when the order was made against Roy and Valerie Rylands, from Bwlch y Fridd, Newtown.
The court heard of a history of incidents between the couple and neighbour Roger Morgan.
The Rylands now have 21 days to comply with the order.
The magistrates' chair said the case could have been avoided and said mediation should be used to resolve such issues.
The three-day case was told of various incidents of conflict between Mr Morgan's family and the Rylands.
The latest issue centred on a complaint about the 52 hens and five cockerels kept by the Rylands.
Powys council conducted an investigation following the complaint last summer and issued the order.
At a previous hearing Mr Morgan said the level of the cockerels' crowing was "like a police siren".
He said it had forced him to sleep several nights a week in a spare room and was affecting his ability to do his job as a school coach driver properly.
'Unfortunate situation'
In reaching their decision, magistrates' chair David Peat said he and his colleagues had "noted the various aspects between the parties but we have not taken this into consideration when deciding the outcome".
He added: "It's regrettable that in a hamlet as small as Bwlch y Fridd, that such animosity has evolved."
Mr Peat said "the unfortunate situation" could have been avoided and recommended that "someone put into place a mechanism for mediation" to try to resolve such incidents sooner.
The court heard the case had cost Powys council £10,288, and Mr and Mrs Rylands were ordered to pay £6,000 towards it.
Magistrates said it was for the council to set the terms under which the costs were paid.
After the hearing, Mrs Rylands expressed her unhappiness with the court's decision, saying it was a "great shame for farmers in general".