First of six strikes at Brecon High School takes place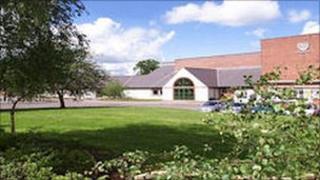 The first of six one-day strikes has taken place at a school in Powys amid concern over compulsory redundancies.
The majority of Brecon High School's 800 pupils were told to stay at home as 28 of its 45 teachers took action and formed a picket line outside.
The NASUWT teaching union says six jobs are under threat, while head teacher Ingrid Gallagher has said the school has more staff than it needs.
Further strikes are planned on 30 and 31 March and 5, 6 and 7 April.
The school was closed to all pupils on Thursday, apart from sixth form students and staff not involved in the action.
The NASUWT has accused the school's governors of financial mismanagement and said they had turned a £100,000 surplus into a projected £650,000 deficit in three years.
The school denied it had failed to take action to address a budget deficit, which it claimed was caused by a reduction in funding.
Chairman of the governors Paul Martin said: "The school has taken very positive action over the past three years to tackle an anticipated budget deficit, as the union very well knows. Teaching costs have been reduced by more than 10% despite year-on-year teacher pay increases.
"All vacant posts have been carefully assessed to see if there was scope to reduce staffing levels without the need to have compulsory job losses. As a result 12 vacant positions have not been filled and the school has been able to reduce its staffing levels by more than 10 since 2007."
Rex Phillips, of NASUWT, said the strike was "solid and went well".
"Now we're waiting to see if the school and the local authority will come to the negotiation table to discuss this with us," he added.
Powys council is proposing a shake up of secondary education and under its plans schools could merge and sixth forms could shut.