Calsonic Kansei fined £400,000 over forklift death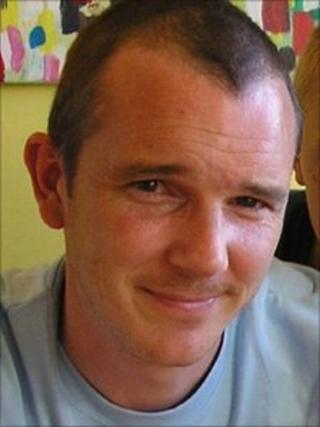 A car components company has been fined £400,000 after the death of a worker struck by a forklift truck on the day he was to take voluntary redundancy.
Darren Small, 35, of Loughor, near Swansea, died three days after the truck reversed into him at Llanelli, said the Health and Safety Executive.
Calsonic Kansei UK admitted health and safety charges and was also told to pay £45,000 costs at Swansea Crown Court.
The firm said it had since introduced many improvements to safety.
His family said he was a "fabulous" person whose children were "still finding it extremely hard to cope with losing their loving father".
The HSE, which investigated the incident, said that on 17 March, 2008, Mr Small had gone onto the factory floor to "issue instruction" to a forklift truck operator.
As Mr Small finished speaking, the forklift truck reversed into him, knocking him to the ground.
HSE inspector Stephen Jones said: "It's fairly routine for forklift trucks to operate within the same area as pedestrians in this industry.
"However, working procedures and systems need to be in place to prevent vehicles colliding with people.
"This tragic incident could have been avoided had all contractors and employees been aware of the risks, and had the safety procedures been taken to avoid such risks."
'Extremely hard to cope'
In a statement, Mr Small's family said no other family should go through what they had had to endure.
"Darren was such a fabulous, lovely and kind-hearted person and a really devoted father," they said.
"To die on the day he was due to have taken voluntary redundancy is even more tragic.
"Time does not heal. We all miss him so very much and his children are still finding it extremely hard to cope with losing their loving father.
"We hope employers hearing this case will have more regard for health and safety in future as no other family should go through what we have had to endure - losing such a wonderful person from our lives."
A Calsonic Kansei UK spokesman said: "Darren was a popular and highly respected member of staff who is still greatly missed by his friends and colleagues.
"We express our deepest sympathies to his family for their tragic loss.
"Following an investigation by the Health and Safety Executive, the company admitted two breaches of the Health and Safety at Work Act in November and we fully accept [the] sentencing decision.
"The company remains committed to the continuous improvement of our approach to health and safety, and has introduced many improvements to the safety of forklift truck operations in the three years since this fatal accident. The welfare of our workforce is of the utmost importance."