Diazepam websites fuel drug misuse, claim charities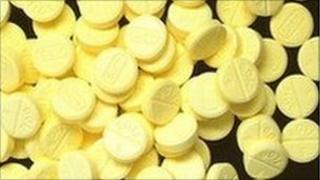 Two drugs charities have warned that the internet is contributing to an increasing misuse of diazepam in Wales.
Known in the UK by the brand name Valium, it is legally prescribed to thousands for treating anxiety.
The north Wales drug and alcohol agency CAIS said online pharmacies were making it easier to obtain diazepam, but harder to police its use.
Newport-based Kaleidoscope said nearly all the people it saw had misused the drug, often with other substances.
Known on the street as "blues" or "vallies", production or supply of diazepam without a licence carries a maximum sentence in the UK of 14 years.
The two charities are concerned that the drug is becoming increasingly easy for individuals to import by searching the internet to find an overseas supplier.
Ben Maudsley, a Newport council employee based at Kaleidoscope, said users of illicit supplies may not know the strength of what they were taking.
"A lot of the tablets will say it's a 5mg or 10mg tablet - but in analysis it's been discovered that some of the tablets will be double or treble the actual strength," he said.
"Some people have referred to deliveries of bin bags full of Benzodiazepines coming to the house, and they're distributed in little snap bags or money bags from ten to a hundred per batch."
One user from the south Wales valleys told BBC Wales it was easier to obtain diazepam than a can of lager but admitted not knowing how genuine the drug was.
"Half of these days you don't know what you're taking though because half of them are cut with rat poison or whatever else is in them," he said.
'Thumping headaches'
"The other week I had a Temazepam... I woke up the next day and I was really really ill off it, and I think it was one of those fake ones.
"If I'd have taken more than one I don't think I would have been here now... I had these thumping headaches, I couldn't see properly.
"I saw the person I got the tablet off and I told him listen, flush it down the toilet, they're not the real thing, and he wouldn't believe me - he said I need money.
"I said listen, what would you rather have - money in your hand or a death on your conscience?"
The most recent figures, in 2008, show two million tablets were seized by police forces across the UK.
But Clive Wolfendale, a former acting chief constable of North Wales Police who is now chief executive of CAIS, said it was a difficult drug to police.
"It's not something that certainly police officers would readily detect, in terms of either the symptoms or in terms of a systemised route of supply," he said.
"Because it's often used in association with alcohol - particularly amongst younger people - maybe they'd just assume it was just extreme drunkenness, or use of another drug such as cannabis or ecstasy.
"But actually a lot of it is Benzodiazepines, and has been for some time.
"There is a lot of this stuff about, and its prevalence among younger people is particularly worrying."