Gwilym Euros Roberts' licence period revoked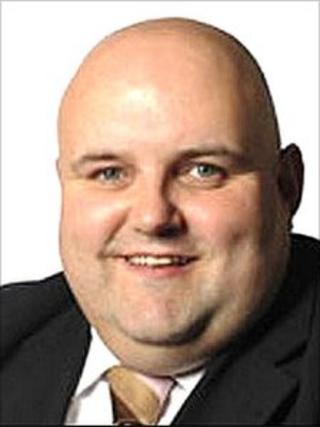 A former Gwynedd councillor jailed for a knife attack on his ex-wife has been told he will not have to stay on licence after release.
Gwilym Euros Roberts, 41, of Blaenau Ffestiniog, was jailed for four-and-a-half years for wounding with intent.
The appeal court ruled he will not face the four-year "extended licence" period where he could face prison recall.
The judge decided it was wrong to assesses Roberts as presenting a future risk to the public.
Roberts was jailed last July admitting wounding with intent in the attack on Catrin Roberts.
The court heard he had suspected his wife was involved with another man.
He broke through the front door of her home on 17 April last year holding two kitchen knives.
She was already fearful of Roberts, and was upstairs in her bedroom with her mobile phone in case he came calling.
She dialled 999 but it was too late to prevent the attack.
He repeatedly stabbed at her with one knife, causing deep cuts to her hands as she tried to grab hold of the blade.
Roberts, who was once said to be "held in high standing in his local community", also produced a smaller kitchen blade and tried to stab her in the head, before repeatedly punching her.
His former wife suffered a broken nose, possibly permanent nerve damage, and multiple cuts and bruises.
Mrs Justice Thirlwall, sitting in London's Appeal Court, said Roberts was deeply shamed by his crime, and felt profound remorse.
The judge said: "This was a dreadful attack aggravated by the fact that he broke into his wife's home at night."
Overturning the extended licence period, she said the sentencing judge was wrong to assess him as presenting a risk of future harm to the public, noting that a restraint order is already in place against him.
Roberts was Llais Gwynedd's councillor for the Diffwys and Maenofferen ward before his resignation.
He will still have to serve the jail term.