Second Milford Haven coastguard centre rally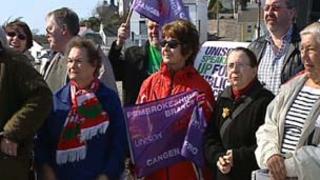 Politicians have attacked plans to close Pembrokeshire's coastguard centre at a rally in Milford Haven.
Environment Minister Jane Davidson joined the Anglesey Labour MP Albert Owen at the demonstration on Saturday.
Plaid Cymru AM Nerys Evans also voiced criticism of plans which would close two of Wales' three coastguard centres.
The UK government announced earlier this month that it was extending a consultation on the proposals for Milford Haven and Holyhead on Anglesey.
Welsh Labour has described the plans as "playing Russian roulette with the coastal safety".
Plaid's Nerys Evans said she believed it was time for discussions on devolving coastguard services in Wales.
It is the second rally in Milford Haven by campaigners hoping to save the coastguard centre from closure.
Last month, more than 100 people confronted the head of the coastguard service, Sir Alan Massey, on a visit to the area.
"Nothing we're doing is going to jeopardise maritime safety," he told protesters.
"None of our plans would foresee people's lives or livelihoods being put any more at risk than they are at the moment."
Under the proposals The Maritime and Coastguard Agency (MCA) would shut 10 of the UK's 18 stations.
Critics have said that they remain unclear how the MCA can guarantee safety when, in the future, such calls will be transferred to Swansea in the day - or a 24-hour station on the Solent in the south of England.
Resilience
They point to the MCA's own figures which show last year the Milford Haven station dealt with 715 serious incidents, classed as "alert, distress and uncertain".
In all, 109 of those involved medical evacuations.
A public consultation on the closure programme was due to end on 24 March, but last week UK Shipping Minister Mike Penning said that would be extended by six weeks.
He told MPs that he had already received more than 1,000 submissions on the issue.
"All of the control centres I have visited... accept that we have to modernise the service and go forward," he added.
"The robustness and resilience of the service isn't there. We have had some fantastic submissions where they have actually engaged in going forward."
Responding to the decision on extending the public consultation, Dennis O'Connor of Save Milford Haven Coastguard Campaign, said it was a "clear indication" that issues have to be addressed, particularly safety.
"Lives will be put at risk because it will lead to response times being increased," he said.