Welsh commissioner criticises education standards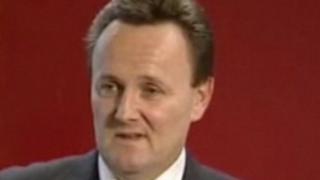 Aspirations for educating children in care are "ridiculously low," the Children's Commissioner for Wales has said.
Local authorities' benchmark target for children in care is a basic one GCSE.
Keith Towler calls it "shaming" on BBC Wales' Eye on Wales and urges greater educational aspirations for those children.
The Welsh Local Government Association said focusing on GCSE attainment "doesn't create the whole picture."
Mr Towler is expected to raise the issue in a report marking 10 years of the watchdog whose creation was among the recommendations of the Waterhouse Report, which followed a public inquiry into allegations of physical and sexual abuse in children's homes in north Wales.
Mr Towler's report later this year is expected to highlight inconsistencies between services across Wales for looked-after children, and those leaving the care system to live independently when they reach 16 or 18.
Despite major improvements in local authority care since the Waterhouse Report in 2000, Mr Towler warns that a "postcode lottery" still exists.
It creates, he says, huge disparities between how young care leavers are treated between different areas and what level of ongoing practical, financial and emotional support they are afforded by social services and other agencies.
"I think ten years on, we've seen some huge improvements…but we've still got an awfully long way to go," said Mr Towler, who became children's commissioner three years ago.
"Some of the key messages I'm getting are about the inconsistencies that children and young people are experiencing across Wales.
"You hear (them) asking very simple questions about how they could access an advocate, for example. All children ought to be able to access the services of an advocate."
The minimum one GCSE aspiration for children in care is laid down in Welsh Assembly Government performance indicators for local authorities.
'Shaming'
Mr Towler said: "It's a ridiculously low aspiration, and I think we set our aspirations far too low for children in the looked-after system, much lower than frankly we should.
"I think that's rather shaming on us as a society. These young people, like any young people given the right support, can achieve great things."
George Jones, assistant director of advocacy organisation Tros Gynnal Plant, said the disruptions suffered by some young people in care will inevitably have a detrimental impact on their education.
He said: "If you can just imagine trying to move once a month for a year, until recently with all your worldly goods in a black plastic bag, then how on earth are you going to achieve educationally? I would say it's nigh on impossible."
Beverlea Frowen, director of social services for the Welsh Local Government Association, said focusing on how many GCSEs a looked-after child obtained "doesn't create the whole picture."
She added: "But I accept generally, across the board, we would all want them to have a better attainment than just one GCSE. But we have to recognise that some of them make remarkable achievements."
Eye on Wales is broadcast at 1304 GMT on BBC Radio Wales on Sunday.