Bodies of two women from Wales found in Irish Republic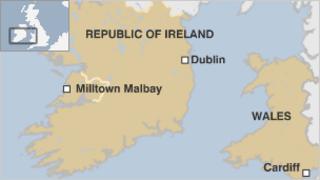 The bodies of two women believed to be from Wales have been found at a seaside beauty spot in the Republic of Ireland.
Irish police said they were discovered at White Strand near Milltown Malbay in County Clare on Friday.
The middle-aged women were found fully clothed on a rocky area of a beach, and died on Thursday evening or Friday morning.
Police said the deaths are being treated as a tragic accident. The women have not yet been named.
Supt Colm O'Sullivan, from nearby Ennistymon Garda Station, said the cause of the accident was not clear but one of the women may have attempted to help the other in difficulty.
"That's what we think happened, that one of them fell," he said.
"There was a slipway going down to a beach, and we don't know whether one of them was swept off this pier because the seas were rough at the time.
"We don't know whether one was swept off, or fell, and the other one went to her assistance."
Police said the women were believed to have been on a tour of County Clare when the incident happened.
A British-registered Citroen car with a dog inside was found near to the beach.
The women's bodies have been taken to the Mid Western Regional Hospital in Limerick where post mortem examinations will take place.
Gardai officials said the two will not be named until their relatives have been contacted.