Mike Penning visits Milford Haven coastguard centre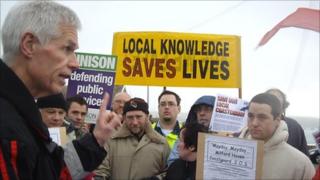 A UK government minister is to talk to staff at a Pembrokeshire coastguard station threatened with closure, days after another rally to keep it open.
The plans would see the Milford Haven station close, and Holyhead, Anglesey.
Shipping Minister Mike Penning has extended the closure programme's consultation, due to end on Friday, for another six weeks.
He has said the coastguard's organisation was "not well placed" to respond to challenges it faced.
Last month, more than 100 people confronted the head of the coastguard service, vice admiral Sir Alan Massey, on a visit.
A second rally was held in Milford Haven on Saturday by campaigners hoping to save the centre.
Under the proposals the Maritime and Coastguard Agency (MCA) would shut 10 of the UK's 18 stations.
Wales would see the closure of Milford Haven and Holyhead with the station at Mumbles, Swansea, becoming one of five sub-centres open during daylight hours.
Under the proposals, emergency calls at night would be handled by a 24-hour station on the Solent on the Hampshire coast.
Critics have said that they remain unclear how the MCA can guarantee safety under the proposals.
'Analytical'
They point to the MCA's own figures which show last year the Milford Haven station dealt with 715 serious incidents, classed as "alert, distress and uncertain".
In all, 109 of those involved medical evacuations.
Mr Penning has told MPs that he had already received more than 1,000 submissions on the issue of the closure programme.
The plan would also call for nearly a 50% reduction in full time coastguard staff within 4 years.
When he visited Milford Haven, Sir Alan said the MCA needed to be more "analytical" about its use of resources.
He said: "What we are seeking to achieve is a better coastguard service in the 21st Century and to do that we need a national network and to make better use of the people, skills and technology so we can coordinate things to be far more efficient than we are at the moment."