Islamic Relief's Cardiff County Hall fundraising dinner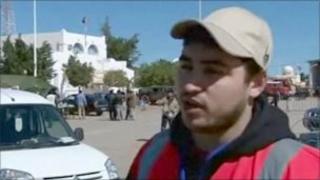 A fundraising dinner by Islamic Relief Wales has raised more than £50,000 for humanitarian work in Libya.
About 300 people attended the dinner and auction at Cardiff's County Hall, which will pay for two mobile clinics it is sending to eastern Libya.
The charity's Wales manager, Salahuddin Aboulgasem, has returned from Benghazi, where he was part of a convoy of aid arriving from Egypt.
Before that he helped with its work on the Libya-Tunisia border.
Mr Aboulgasem said: "We want to help as many people as possible."
People paid £10 to attend the three-course dinner and he said they were "very generous" at the fundraising auction.
The evening included a screening of a video showing the charity's work in the country in recent weeks as well as a talk by a doctor from eastern Libya, Dr Abubakr Azuz, on humanitarian need.
At the beginning of March, Mr Aboulgasem helped to set up a transit camp on the Libya-Tunisia border for the thousands of migrant workers who were fleeing the conflict in the country.
He said: "There is a huge need in Libya. That is why the mobile medical clinics are needed.
"After travelling there myself, I had eye-witness testimonies to share with all those who were present and videos to show the realistic situation of the disastrous events.
"An understanding of what the money was needed for was explained to everyone and it was clearly visible that those present appreciated knowing what exactly their money would be used for.
'Generosity'
"Having everything clearly explained to them increased the generosity of the people."
The Wales arm of Islamic Relief was founded in 2007 and has some 2,500 donors and about 100 volunteers.
Mr Aboulgasem said the county hall dinner raised £54,750 while Dar ul Isra Islamic Community Centre in Cathays also raised around £10,500.
Islamic Relief is one of 13 humanitarian aid agencies which are part of the UK Disasters Emergency Committee (DEC).