Dog breeding laws warning from WLGA on Week In Week Out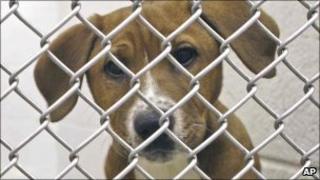 Councils will struggle to police new dog breeding laws aimed at improving animal welfare unless they are given extra money, leaders warn.
The assembly government is considering proposed changes to legislation.
They are likely to include licensing many of the small scale breeders who sell to the public.
The Welsh Local Government Association (WLGA) told BBC Wales' Week In Week Out of likely difficulties in monitoring breeders.
The proposed changes to the law are aimed at improving animal welfare, stamping out bad practice, and involve micro-chipping all pups as well as limiting the number of litters bitches can produce in their lifetime.
But in an investigation into puppy farming by BBC Wales current affairs programme Week In Week Out, the WLGA said its members would find it difficult to monitor more than the 400 breeders currently licensed and inspected throughout Wales.
Simon Wilkinson, policy officer for regulatory services for the WLGA, said: "If local authorities don't have the appropriate resources to do the work, especially if the numbers of businesses increase as a result of that legislation, it will be difficult to adequately cover all of the new businesses.
"It will be down to local authorities individually to prioritise their budget but I probably am sceptical that this type of work would be seen as a priority in the greater scheme of things."
In the programme, dogs are discovered living in filthy conditions, some without food and water, at a kennels which have been licensed by Ceredigion council.
The conditions exposed were described as the worst he had seen by the veterinary director of the Dogs Trust charity, Chris Laurence.
Mr Laurence, who has been an adviser to government on animal welfare issues, said in his view leaving dogs without water and in such unhygienic conditions was a breach of the Animal Welfare Act.
Farmer Derrick Davies had been running an unlicensed dog breeding business from a farm in Ceredigion until council officials were alerted last October.
The Puppy Love Campaigns pressure group had filmed conditions inside the kennels.
Ceredigion council investigated and ordered Mr Davies to improve conditions and rehome some of the 94 adult dogs and pups, which he did.
For almost two months, the farm was spot-checked by officials - the RSPCA, Ceredigion council and an independent vet visited.
Once the council was satisfied Mr Davies had met its licensing standards he was granted permission to keep 12 breeding bitches.
'No conceivable excuse'
Bryan Thomas, director of housing and environmental services for Ceredigion council, said: "Following the improvements undertaken as a result of the action of the council, improvements were secured and at the time inspection was undertaken of the premises for licensing purposes, everything was sufficient to reach [the] conclusion that granting the license was warranted. "
But Week In Week Out revisited the farm after the licence had been granted and, at the end of January, found dogs which had had been left in filthy kennels, some with no food or water, and there were two pups with eye problems.
Commenting on the evidence, Mr Laurence said: "It is inexcusable, there is no conceivable excuse for keeping dogs like that, full stop."
Mr Davies was prosecuted by the council for breeding without a licence between October 2009 and October 2010.
He was fined £280 and ordered to pay £800 costs by Aberystwyth magistrates this month.
But he has not been prosecuted for animal welfare offences because he complied with the improvement notice issued by the council last autumn.
Monitoring the premises
Since the BBC's visit to the farm, it has been inspected by the RSPCA and a council official, and no problems were found.
Ceredigion council said it would examine the evidence in the programme and be monitoring the premises closely.
Mr Davies did not want to be interviewed but in a statement denied mistreating his dogs. He admitted failing to clean his kennels properly for a short period last October when the council first visited the farm.
He blamed a temporary domestic difficulty for the situation.
But he said his dogs were fed, watered and exercised daily. He added that a vet who examined them said they appeared in good bodily health, well fed and watered.
Week In Week Out is on BBC One Wales, on Tuesday, 22 March at 2235 GMT.