Milford Haven coastguard closure 'not done deal'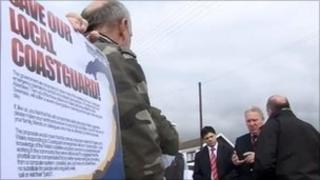 Campaigners aiming to keep Milford Haven's coastguard station say a UK government minister has persuaded them they "have a voice" on the issue.
Delegates from Save Milford Haven met Shipping Minister Mike Penning when he visited the station to talk to staff.
Mr Penning is considering the proposals for the Maritime and Coastguard Agency (MCA) to shut 10 of 18 UK stations including Milford Haven and Holyhead.
Former coastguard Dennis O'Connor they were assured it was not a "done deal".
The minister visited the station on Monday, two days after a second rally which saw around 350 protesting at the proposal to close the 24-hour coastguard centre.
Under the MCA's plans, Wales would see the closure of Milford Haven and Holyhead with the station at Mumbles, Swansea, becoming one of five sub-centres open during daylight hours.
Emergency calls overnight would be handled by a 24-hour station on the Solent on the Hampshire coast.
Mr Penning stopped to speak to the campaigners after meeting the coastguard centre's staff.
In a statement, the group said: "The minister offered genuine responses to several questions raised.
"It was clear that there was no political speak and everyone had ample opportunity to ask him to address specific questions."
They said Mr Penning assured them it was "not a 'done deal' " and that their actions and voices were "understood, appreciated and are being heard in Westminster."
They said this contrasted with the visit last month of MCA chief executive Sir Alan Massey who left them feeling that "concerns were not being heard or listened to".
The public consultation on the proposed closure programme was due to end next Friday, but has been extended by Mr Penning for another six weeks.
Following his visit, Mr Penning said he had inherited the closure plans from the outgoing Labour government.
He said: "There's a lot of controversy about it but there's a debate taking place now about the future of coastguard service, which wasn't there before.
"But it's not a done deal. I will listen to the campaigners. I will listen and I will read the submissions, and we'll go forward."
Critics of the closure proposals say it will lead to a loss of local knowledge and say they remain unclear how the MCA can guarantee safety.
They point to the MCA's own figures which show the Milford Haven station last year dealt with 715 serious incidents, classed as "alert, distress and uncertain".
In all, 109 of those involved medical evacuations.
The MCA said the changes would give it more flexibility to manage the greatly varying demands of its workload.