Rhyl's 'stolen goods' shop demolition work begins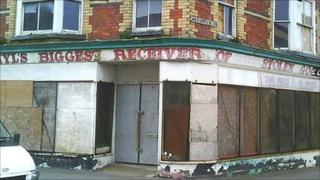 Work is getting underway to demolish a derelict shop in Denbighshire where vandalised signs once read "Rhyl's biggest receiver of stolen goods".
A long-standing eyesore in the seaside town, council planners purchased the site after years of complaints from residents.
It even prompted local MP, Chris Ruane, to take to a ladder and paint out the offending signs himself.
The site will eventually become an open space for community use.
Signs on the building on the corner of Aquarium Street and Abbey Street had been in place for decades.
The signs originally read: "Rhyl's Biggest Receiver of Cut Price Lines. Please Note We Do Not Sell Stolen Goods."
But over the years, vandals painted out words, until it read simply: "Rhyl's Biggest Receiver of Stolen Goods".
In 2009, the assembly government agreed to fund purchasing the site as part of the strategic development of the west end of Rhyl, one of the most deprived council wards in Wales.
Denbighshire planners finally approved the demolition of the buildings last September.
Vale of Clwyd MP, Mr Ruane has welcomed the start of work to remove the eyesore.
"We don't need buildings like this in Rhyl anymore," he said.
"The fact that I blacked out the sign was cosmetic - now it is going. I shall be very happy when that has happened.
"The whole face of Rhyl's promenade is being transformed. What we need to do know it get into these back streets and make certain we finish the job."
Denbighshire Council said the local community had been consulted and 98% indicated they wanted it to be used as open space rather than a car park.
The land will be maintained as part of a project with Rhyl Adventure Playground and young people undertaking Future Jobs Fund training.
Councillor David Thomas, lead member for regeneration said: "Demolition of this eyesore, which will then be replaced with a green space for residents to enjoy, forms part of a much wider and far reaching plan to regenerate this area for the benefit of all."