Colwyn Bay's Eirias school 'hack' claims investigated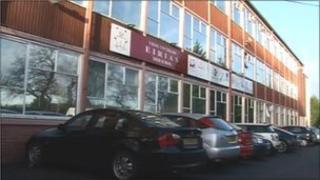 An investigation is underway at Colwyn Bay's Eirias High School into whether computer records of pupils have been stolen.
It follows claims posted on the internet by someone claiming to be a pupil and having accessed the records.
The head teacher said no download of student data has been achieved by the alleged hacker.
However, Phil McTague said they are continuing to investigate the allegations in conjunction with police.
In internet postings to two so-called computer 'hacking' message boards, the individual stated: "Hey guys, I'm pleased to say that I have successfully hacked my school.
"I have downloaded everyoes (sic) reports, and am now working through a long list of revenge stuff.
"I'm thinking of trying to sell the information like this, any idea how to do it?
"Any ideas for what I can do next? Bros, you should be worshiping me!"
The postings also have an image of alleged records that have been downloaded.
In a statement from Eirias High School, staff confirmed that they had been informed of the alleged security breach.
"We are dealing with the issue as a matter of urgency and a team of specialists from Conwy Education Service is assisting us with our investigation," said the statement.
"To date we cannot confirm the allegations."
It is understood that North Wales Police have also been informed of the developments.
In January, the school was reported to the Information Commissioner over a complaint that personal information on a pupil was made public through a YouTube video.