Fusilier Jason Palmer to receive bravery award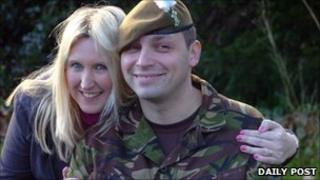 A Territorial Army soldier will receive a bravery award for helping casualties injured in explosions in Afghanistan.
Fusilier Jason Palmer, 36, from Colwyn Bay, Conwy, gave "life-saving first aid" and cleared safe routes to injured colleagues on two separate occasions.
He has been awarded the Mention in Despatches, the oldest recognition of gallantry within the UK armed forces.
Fusilier Palmer, of 3rd Battalion The Royal Welsh, was seriously injured himself later in the tour.
His vehicle was hit by an improvised explosive device (IED) while searching for booby traps in heavily mined ground in Helmand.
He broke his back in three places and every rib on his right side.
The award was for a "selfless act of bravery" during an operation to clear IEDs when two members of the patrol were badly injured in an explosion.
An Army spokesman said: "Despite being only five metres from the blast, Jason recovered his composure and cleared his way to the casualties.
"He provided first aid and reassurance to both wounded soldiers. The quality of the treatment he gave earned high praise from the senior medical officer at Camp Bastion Hospital."
Fusilier Palmer said a soldier's first thought was to help colleagues rather than look after yourself, although there was often a very real risk of other explosive devices in the area.
"When the blast goes off, because of the geography and topography at the location, a huge plume of dust is thrown in the air and it takes a massive amount of time for that to clear," he said.
"You know something bad has happened but you can't see anything at all.
"You're ears are ringing due to the volume of the blast... but you just make your way to the general area where the blast happened [to help your colleagues]."
He added: "We're always trained to be calm and collected and retain our composure but when it's your friend who has been injured, you just want to get to your friend and give them the best treatment you possibly can."
'Under enemy fire'
In a subsequent patrol he was thrown to the ground by an explosion which severely injured a comrade.
He made his way to his colleague and treated the injured man while the patrol came under "heavy and sustained" small arms fire.
He was praised for his professionalism and bravery "acting with complete disregard for his own safety to reach and treat a fallen comrade while under enemy fire".
Then just a week or two before the end of his tour, he was seriously injured when his vehicle was hit by an explosion.
Fusilier Palmer is now said to be continuing his recovery following his injuries, which have seen a series of metal bolts and rods inserted into his body.
He has received treatment at Birmingham's Queen Elizabeth Hospital and the Headley Court rehabilitation centre in Surrey.