Alex Chant police plea year after Newport taxi 'exit'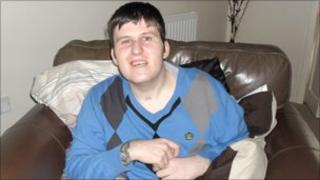 A year after a taxi passenger was found on a road with serious head injuries, police and his family have appealed for information from the public.
Alex Chant is at a rehabilitation unit after the incident in Newport which left him in hospital for weeks.
Gwent Police said the 21-year-old city was seen getting out of a moving taxi on the Southern Distributor Road after a Saturday night out in Maindee.
Officers said it was "imperative" detectives find the taxi driver.
They said Mr Chant, from the Lliswerry area of the city, left Maindee Square at around 2315 GMT on 27 March last year in a dark people carrier with a sliding door.
He was found seriously injured at the side of the road near CarCraft 15 minutes later.
Det Supt Geoff Ronayne said the taxi driver may have "vital information as to what happened within the vehicle that night and know how and why Alex exited the vehicle".
"It may help people to remember what they were doing by saying that it was the first weekend of the Easter holidays, the first Saturday after the schools broke up," he said.
"We are continuing to look at CCTV, particularly of one vehicle that was in the area shortly before the incident occurred - the driver may well have seen something that is significant to the investigation."
Det Supt Geoff Ronayne said Mr Chant had just come from the Sens Kebab House on Maindee Square and probably crossed the road to a bus stop where taxis normally pick up fares.
Stephen Chant said his son was making a steady recovery, although it was slow "given the severity of his injuries".
"His progress to date has far exceeded what any of us expected," he said.
"My wife and I visit him every day after work in Rookwood Hospital where he has been since transferring from the Heath (hospital) in July last year.
He said his son comes home every weekend.
"Alex is now able to sit up for about five minutes, eat soft food and stand for a short time assisted by a standing frame - one of the occupational therapists described him as a model patient."
Mr Chant added that his son is "extremely determined to get better and works hard everyday to achieve his monthly goals set by the therapists and nursing staff".
It was "disappointing" he said that the family could not get any closure about what happened that night.
Alex is 6ft 1inch, of medium/stocky build with short dark brown hair. Both his arms are heavily tattooed with hearts, tribal patterns, a skull with chequered flags, a red spiders web coming out of it.
He was wearing a blue and white striped t-shirt and blue jeans.
Anyone with information is urged to contact police on 101 (if in Wales) or get in touch with Crimestoppers on 0800 555 111.